Proposed regulations from Denver's Department of Public Health are raising the hackles of dog-friendly businesses that worry the rules will take a bite out of their business.
"If they pass, these rules will shut us down," said Justin Henry, who in 2013 opened the Watering Bowl as a bar and restaurant with a 9,100-square-foot AstroTurf patio where dogs can play, and their owners can eat pizza and drink beer.
With the popularity of dog-friendly establishments on the rise, the city is mulling new rules for off-leash dogs on private and commercial property. These would be separate from Denver's existing dog-patio laws, which allow restaurants to host canines – provided they stay leashed.
In the city's latest batch of regulations, food and beverage would be strictly prohibited in off-leash enclosures, dealing a major blow to a business like the Watering Bowl, which relies on its dog-centric patio.
Children under 10 also would be banned under the new regulations, effectively banning family birthday parties (for children and dogs) that have become a community staple at the Watering Bowl, which is on Leetsdale Drive near the corner of Alameda and Holly.
After introducing the rules in April 2018, public outcry was swift — a post on the Watering Bowl's Facebook page reached 88,000 people after Denver KMGH TV Channel 7 first reported on the proposed regulations.
Public Health subsequently canceled the hearings planned for the off-leash rules and went back to the drawing board.
"We put this forward and pulled it back because we recognized we needed to do more work," said Alice Nightengale, director of Denver Animal Protection under the umbrella of Public Health.
According to Nightengale, the city has seen big interest in off-leash dog activity on private property. But she argued much of that has been unregulated and technically illegal, given Denver's existing leash laws that generally ban dogs from being off the leash in public spaces.
Rather than restricting dog owners, however, Nightengale said the city wants to "create a space where being off-leash is legal."
Next week, the Board of Public Health is hosting a series of public hearings and inviting businesses with a dog in the fight, including homeowners, rental property managers, restaurants and dog daycare sites.
Denver tried to neuter one dog business before.
After the Bark Bar opened along 38th in Berkeley in 2013, with an open yard where dogs could mingle with their owners enjoying local beer, neighbor complaints and visits from the Denver Zoning and Health departments left the business battered and bruised. It quietly closed in early 2015.
Henry, owner of the Watering Bowl, rejected any comparison between his business and the Bark Bar.
"From day one, I asked the city what exactly I needed to do," Henry said, adding that he's spent more than $100,000 on legal fees since 2014. "We were 100 percent up front with everything we wanted to do, and the city approved it."
In five years of operation, Henry said he's received more than 24 permits from the city to open and operate the Watering Bowl — the first and only bar allowing Denver dogs to roam free on a restaurant patio.
While the Public Health department attempted to shut him down in 2014 for mixing dogs and restaurants, he won an administrative court ruling that allowed his business to stay open.
Since then, he's heard some of the usual gripes from customers — "the beer sucks, the pizza's no good, it's stuffy in here," he said, imitating them. "But the one thing they've never complained about? The dogs."
Watering Bowl was left alone for three years. But a new department knocked on his door in the spring of 2017: Zoning, which claimed he lacked the necessary permits to lawfully operate his business. In September, Henry sued the city, arguing the zoning permits the city was demanding did not yet exist.
The case is still ongoing, but through it all, Henry has wondered out loud: "What did I do wrong?"
At the Watering Bowl, dogs are prohibited from entering the building. The restaurant's kitchen is a 30-second walk from the patio, where a double gate prevents even the canniest dogs from sneaking their way inside. A pager system notifies customers when they can pick up their food from the inside before bringing it out onto the patio.
The patio's 6-foot-tall fence is lined with sanitizer dispensers at 5-foot intervals, and Watering Bowl employees clean the AstroTurf three to four times a week.
Henry said the Watering Bowl has had zero incidents of people being bitten by dogs, and only one "runner" — a dog with an 8-foot vertical jump leaped the fence in pursuit of a rabbit a few years back, but he returned to his owner's whistle a few moments later.
The Public Health department has cited Denver's existing leash laws as the legal basis for drafting new rules. But James Bertini, a retired lawyer and landlord that leases to a dog day care business, disagreed.
"Denver's current leash law is quite clearly designed for public land, therefore, it can't be used to regulate on private property," he said. "It's absurd for the city to tell you how to play with your dog."
Ahead of the hearings scheduled next week, Nightengale said the Public Health department will listen to concerns and adjust the law accordingly.
"Once we complete the focus groups, we'll go back to the base law, add whatever needs to be added and modify what needs to be modified," Nightengale said.
Henry will be there for the July 25 hearing directed at restaurant owners. "Every dog owner in Denver County needs to be at that hearing," he said. "If they have any additional questions, come see Justin Henry at the Watering Bowl."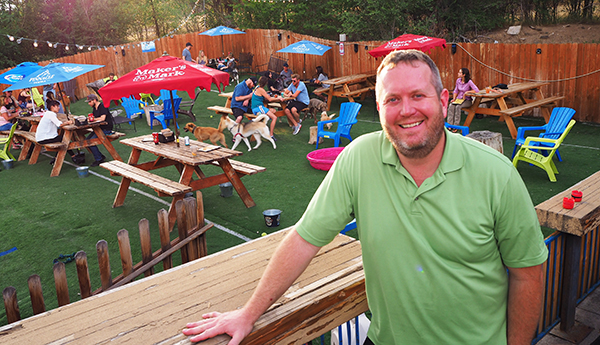 27416