On one stretch of West 13th Street a block south of West Colfax Avenue, every street for 10 blocks has had at least one lot scraped and developed in the last three years.
That puts the West Colfax neighborhood, where rows of townhomes are replacing 100-year-old bungalows, near the top for scrapes competing with hot spots in Sunnyside and East Wash Park.
About 1,200 structures have been demolished and replaced with new ones since 2016, according to data provided by the City of Denver and analyzed by BusinessDen. The city's data goes back only three years.(Click here to see our map with development organized by type of structures built … i.e. single-family homes, duplexes….)
Sloan's Lake, Berkeley and East Wash Park had the most scrapes, according to the data. And scrapes in the last three years have pushed into previously untouched streets that developers bypassed for decades, such as Sheridan Boulevard and 38th Street.
But almost no part of town has had the block-by-block density of scrapes as West Colfax.
Mike McCarty, who started his development company Sustainable Design Build in 2015, has worked on five residential projects in the West Colfax neighborhood, specifically on Zenobia, Xavier and Perry Streets. The multifamily units account for 34 new townhomes in the area, each averaging 1,200 square feet and priced between $400,000 and $500,000.
"We came to the neighborhood ready to deliver below-average-priced townhomes," he said.
McCarty, 37, said in 2015 he was buying lots with bungalows built between 1920 and 1940. He said he's paid between $300,000 and $750,000 for the lots, depending on the size. He put four townhomes on the $300,000 lot and eight homes on the $750,000 one. But he said his cost for land has risen in three years from around $50,000 to $100,000 per finished townhome unit.
"We think the reason the neighborhood has had such an explosion of growth is due to the light rail," McCarty said, adding that the area also was re-zoned in 2010 to allow for multifamily units. "Instead of picking a different neighborhood and being spread out, we really believed in West Colfax. By continuing to build in this area we're bringing more density."
LoHi and Sunnyside scrapes primarily become two-family units. Broker Skyler Moore with Modus Real Estate said that while he works on multi-unit scrapes and builds in the West Colfax neighborhood, he has listed up to 30 duplex units in the last three years in the LoHi and Sunnyside neighborhoods.
"Mostly, it's just because of the zoning," he said. "West Colfax had more friendly zoning. … It's all about density and putting as many units as zoning will allow."
Moore is typically listing 2,500-square-foot duplexes that go for between $700,000 and $1.1 million.
"It is less money than a single family," Moore said, adding that buyers also are looking for property that requires less yard work in that neighborhood as well.
Meanwhile on the east side of town, buyers value square footage over sticker price.
Homes in Hilltop and East Wash Park are being replaced with bigger single-family homes. And East Wash Park ranked No. 3 for the number of scrapes, trailing just Berkeley and Sloan's Lake.
Larry Larsen, a home builder/developer with Larsen Development, has scraped and built 45 custom homes for clients in Wash Park in 10 years.
"I live in the neighborhood," Larsen said. "It's a very stable location. … Even when we go through a recession, the values stay."
Larsen said 10 years ago, he was buying lots with 1930s and 1940s bungalows for $400,000. Now, he says values have skyrocketed to $900,000, and he expects the bungalows could all be gone within five years. Larsen's new homes — all between 4,200 square feet and 6,000 square feet — sell for between $2.2 million and $3 million.
"It's an attractive area to people. They like being right next to the park," Larsen said. "They like the walkable aspects of it," plus the proximity to Cherry Creek and the shops on South Gaylord Street.
And even the newer homes in Wash Park are getting some touch-up jobs.
"Those that were built 10 years ago, they're doing major remodels and are improving them," Larsen said. "We're going back at houses that are 10 years old and just redoing the kitchens, the bathrooms, just opening up the plans more than they were 10 years ago."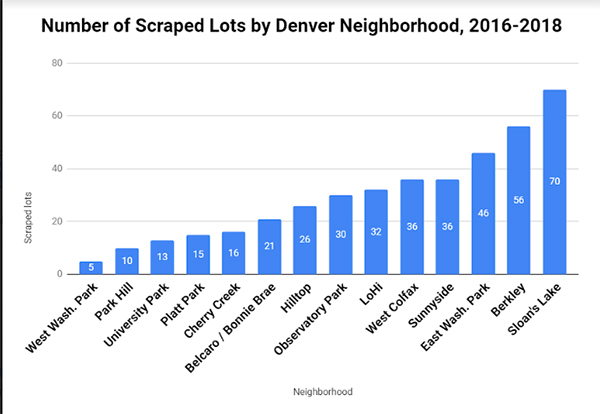 BusinessDen reporter Brendan Pedersen contributed to this report.

27329