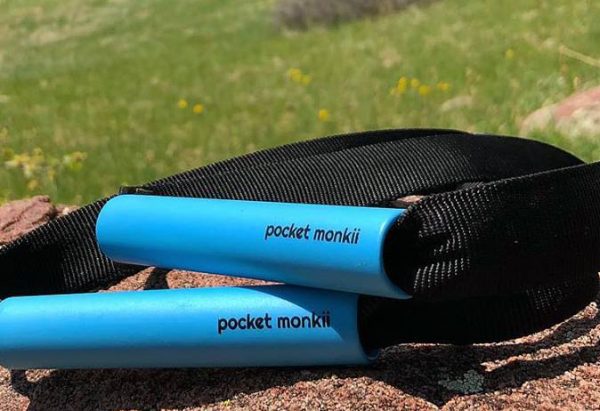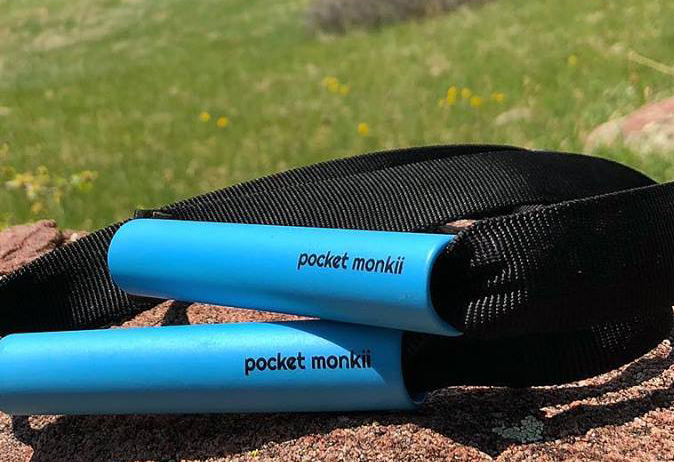 This Boulder fitness startup doesn't monkey around with its Kickstarter campaigns.
One of the three Colorado companies to raise more than $1 million on the crowdfunding website, Monkii needs $40,000 to cross the seven-figure threshold for its latest product. The Pocket Monkii is a small device with straps and handles that hooks behind a door or on a tree and allows users to do various bodyweight exercises.
"Mainly it will all go toward doing the first massive production run of Pocket Monkii," co-founder Dan Vinson said about the raise. "It'll be somewhere around 15,000 to 20,000 units."
This isn't Monkii's first time sniffing around the Kickstarter Seven-Figure Club. The previous Monkii bars version raised more than $1 million in 2016.
"We've had four years now to get feedback from customers," Vinson said. "It's smaller and it's easier to set up and take down."
Vinson and his friend David Hunt, both 32, both went Georgetown University. Vinson played lacrosse and ice hockey. During one college summer as a wilderness ranger in California, he started squatting logs and doing pull-ups on trees to stay in shape for college athletics.
"We were hiking a ton, but as far as strength, you had to get a little creative," Vinson said.
That's when he realized he wanted to develop something that combined fitness with the outdoors. In 2012, he and Hunt started developing what they called the "wild gym" in Boulder. They were hoping to build outdoor gyms made from stone and metal that would blend into an outdoor environment in city parks, but couldn't get approval from city parks.
"We'd come up with Monkii Bars randomly," Vinson said. "It was executable … Especially for two guys, we needed something with a faster sales cycle."
Monkii has sold 20,000 Monkiis. The newest pocket version will retail for $145.
Monkii manufactures the parts for its newest Pocket Monkii in Wisconsin and Lafayette, Colorado. The startup also subleases a 2,500-square-foot warehouse in Niwot.
Monkii also has an app where customers can find different workouts and exercises to use with the bars. And while other products, such as the TRX System, are based on body resistance bands, Vinson said his customer base is different.
"Honestly, a lot of our customers, they're working out for the first time, or they're getting back into it after a long time," he said.
Denver is home to another outdoor fitness product, the EmPack hydration and outdoor weighted backpack, which recently raised $62,000 on Kickstarter.
"The fitness industry, it's full of empty promises," Vinson said. "We're the anti-gym."