Jonny Barber has been telling people to take pictures of Colfax Avenue: the neon signs, the street art, the antique stores on their last legs. The way things are going, he said, Colfax won't look like Colfax much longer.
Now he can add one more thing to the list: The Colfax Museum, which is being booted to Lakewood from its old home in the Ed Moore Florist shop on East Colfax Avenue after the owner sold the property.
"There's a certain amount of irony, and also self-fulfilling prophecy, in seeing the Colfax Museum itself gentrified out of Denver," Barber said.
The museum is packing its bags and heading west to 6851 W. Colfax Ave. with the help of a grant from the City of Lakewood. The new location is right off West Colfax Avenue in a space previously used by the Pasternack Pawn Shop.
According to Barber, the museum won't pay "any rent out of pocket" in its new home, but he plans to pay his way in the same way he did with Lydia Mary's flower shop in East Colfax: as a carpenter.
"I have a lot of remodeling skills," Barber said. "I say I got a free space, but I earn my keep by plastering walls, painting, repairing."
Locally known as "The Velvet Elvis" for his impression of the king of rock 'n' roll, Barber opened the Colfax Museum in November 2017 after he began collecting Colfax artifacts off the street from closing businesses — a street sign here, an awning there.
Barber loves Colfax Avenue, with its retro storefronts and cracked sidewalks. But as more businesses closed their doors and new developments continued to roll onto US Route 40 — what Playboy Magazine allegedly called the "longest, wickedest street in America" — he felt the need to do something.
"A lot of the museums in Colorado cover that early stuff, like pioneering," Barber said. "But with the midcentury, '40s, '50s, '60s, I saw a need to preserve that stuff."
What started out as a one-man-band has grown into a recognized 501(c)3 nonprofit as of this month, complete with a new board of directors and tax-exempt status. That means the Colfax Museum can accept cash and collectibles that donors can write off as tax deductions.
"They want to feel like they're not just paying ol' Jonny Barber," Barber said.
Chairing the board is Kris Autobee, a long-time Denverite with a master's degree in historic administration who said she's never lived more than a few blocks away from Colfax Avenue.
Kris and her husband, Robert, had been writing about Denver history for years, and they had been mulling some kind of historical venture for Colfax just as long. "We talked about the best ways to approach it, like a Colfax Avenue historical society," she said. "Being introduced to Jonny expanded that vision."
With the new board, Barber said he plans to take more of a background role in the business operation of the museum. "I'm the crazy passionate frontrunner, the figurehead," he said. But with Autobee on board, "We needed someone who can speak the lingo and knows exactly how to do this, be legitimate."
As chair, Autobee said she's looking forward to the challenge of working with a startup museum. "I've never worked somewhere where everyone wasn't already a museum person," she said.
The Colfax Museum is planning a pop-up exhibit for July 6 to show locals what they can expect. "It won't be polished, and we won't be ready to open every day at that point, but we can show people our vision," Autobee said.
In the long term, Barber said he hopes the museum will one day have a building of its own. More importantly, he said, he wants it to last. "I'd like this to outlive me and still be something my grandkids can enjoy."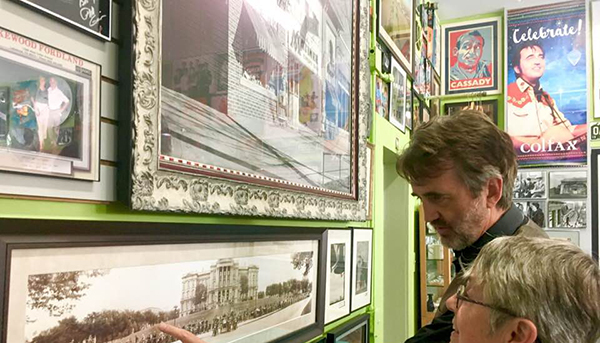 27016