A new gym coming to South Broadway has a silent disco twist.
Three friends who met in the fitness industry plan to open Compass Fitness this June in 7,000 square feet at 2059 S. Broadway.
Compass will offer a broad array of workout classes, including yoga, HIIT and kickboxing. And in some of them, attendees will be asked to don headphones in order to hear music and follow the instructor.
"We can have a kickboxing class going on at the same time as a barre class," Compass co-owner Heather Lorince Harrington said. "It's our goal to have multiple classes going at the same time. We want it to be that busy."
The gym is working with audio company Sound Off, a New York-based company which provides the headphones and audio equipment for fitness classes and other events.
Harrington, 38, has worked in the fitness industry for 10 years, starting as a yoga instructor at CorePower Yoga in 2008 and gradually branching out to Pilates, TRX and barre.
Harrington met her co-owners Jillian Keaveny and Cory Jagger through Denver's Pearl Street Fitness. The three pooled together approximately $75,000 through investors and savings to launch Compass.
"We've had such a big following throughout our entire careers," Harrington said. "If we're going to do it, we've got to do it now. The space fell into our lap."
The three coaches have hired 10 other coaches to help teach between 40 and 50 classes per week at the studio.
"Broadway is just the coolest – it has a little bit of everything," Harrington said. "The people that have followed us for a long time live around there."
Harrington said Compass has purchased free weights, kettle bells, Pilates balls, TRX equipment, boxing bags, boxes and other equipment for classes.
"We don't need a ton of things to work out a body like crazy," she said.
Compass' rent is $10,000 per month in rent at the location on Broadway and Evans Avenue. Monthly memberships cost $179 per month. Harrington said Compass will also have a childcare area for parents to bring their kids while they work out, in addition to a retail center for workout apparel.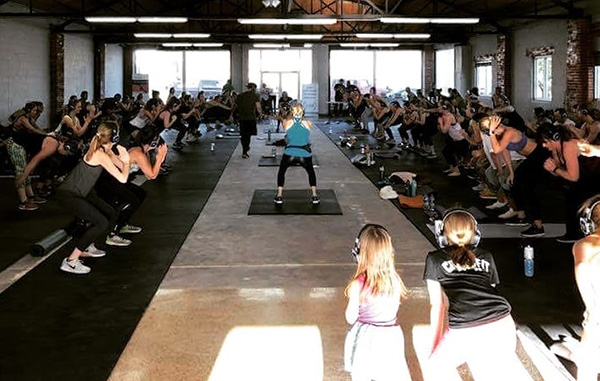 25841