The City of Denver plans to preserve the sign outside an East Colfax strip club slated for redevelopment.
Councilwoman Mary Beth Susman said she approached the Denver Department of Finance's real estate division earlier this month, and staff agreed to ensure the sign at 8315 E. Colfax Ave. isn't scrapped.
"They had complete commitment to that," Susman said.
The sign, first installed 68 years ago, most recently advertised PT's All Nude II, a strip club that closed in 2016. The city purchased the property and an adjacent parking lot in October for $1.3 million, using funding from the U.S. Department of Housing and Urban Development.
The city plans to ask developers later this year to submit proposals for the site; it will likely require an affordable housing component.
Susman said the neon signs along Colfax are a key part of the city's history, and it's undecided whether the sign will remain at the property or be relocated.
The sign likely will be modified, she said — at minimum to remove the word "nude" and, possibly more substantially, to reflect how the sign looked in pre-strip club days.
The base of the sign dates to 1950, when the building housed restaurant Famous Chef, according to the East Colfax Neighborhood Association, which supports preserving the sign.
According to the association, in 1968 the building became a music venue called Friday's and Saturday's, later shortened to Saturday's. The sign was altered to add the lighted arches and neon letters spelling out "Dancing," which survive today.
The building became a strip club in 1987, according to the letter. "Nude" was added to modify "dancing." The sign, originally yellow and red, was painted entirely red in 1994.
"The Saturday's sign is a piece of Colfax history that embodies two of the features that make the street great: live music and neon signs," the association wrote in a letter to the city.
The association wrote that "it would be nice to see a replica of the original Friday's panel return to the sign." But it said it also would support the sign remaining in place and bearing the name of the new development, or being incorporated into the new building's lobby.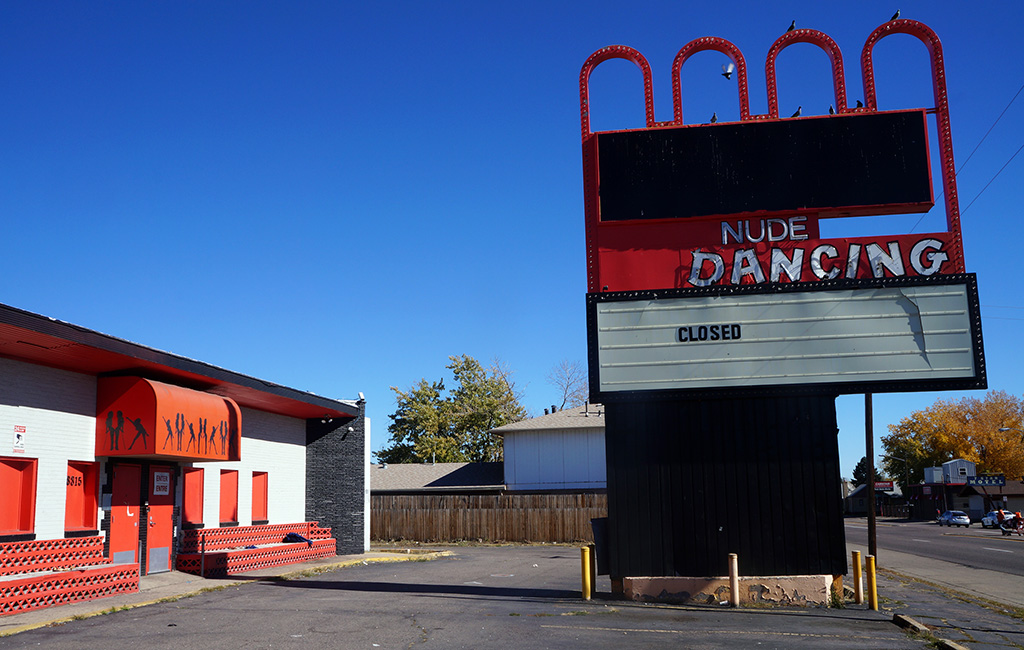 24982