The Securities and Exchange Commission this week sued a self-described marijuana stock guru for allegedly promoting a penny stock publicly while dumping 6.4 million shares for $7 million.
The SEC on Monday sued Denver businessman Jeffrey O. Friedland for fraud, claiming he violated SEC rules by failing to disclose he was being paid to shill for Israeli cannabis company OWC Pharmaceutical Research Corp. and proclaiming publicly that the stock was a buy while unloading millions of shares.
According to the lawsuit, he paid $120,000 for 1.3 million shares in 2014 and then in 2016 acquired another 5.1 million shares as compensation for handling media and investor relations. He unloaded his shares, around 6 percent of the company's value, in 2017 for about $7 million.
The SEC claims he did not disclose in promotional emails and media appearances – on sites such as Wall Street Raw, Cannabis Insider and Pot Stock Radio – that he was a paid consultant to OWC. The SEC outlaws publicizing a company's stock for compensation without disclosing it.
"Between February 2016 and August 2017, however, Friedland sent emails and participated in interviews on OWC's behalf without ever disclosing that he had been hired by OWC to handle its media and investor relations and had been paid to do so with millions of shares of OWC stock," the lawsuit says.
The SEC also claims Friedland violated trade laws when he publicly promoted the stock while trying to sell his shares.
Friedland did not respond to emails or calls requesting comment.
Friedland allegedly touted the stock while unloading most of his positions over 20 days in March 2017, when it was near its peak, according to the lawsuit. The stock traded for about $1.30 a share in March 2017. It now trades at 31 cents a share.
"Friedland also never disclosed that he was in the process of liquidating his OWC holdings, and in fact, told investors his investment in OWC was 'long term' and 'we believed in it then, we believe in it now' on or around days when he was selling OWC stock," the lawsuit claims.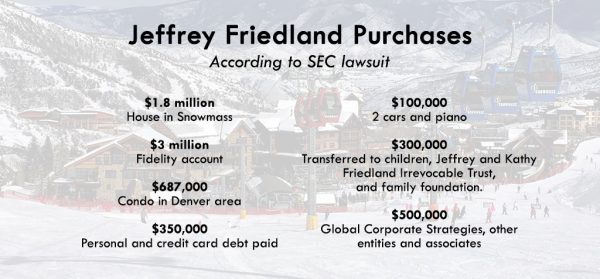 The SEC claims Friedland's wife Kathy deposited $4.1 million in March 2017 into an account at Fidelity, and that they used proceeds from the stock sales to purchase new homes, cars, a piano and more.

The SEC is requesting the court force Friedland to return all the money with interest. It also asks the court to prohibit him from trading penny stocks.

Michael C. Grimes is the counsel for the SEC, with Christian D. H. Schultz and Timothy Halloran as assistant chief litigation counsel. Grimes did not respond to a request for comment.

24432