Two large apartment complexes on opposite sides of the Interstate 25 and Colorado Boulevard interchange have sold to different buyers.
On Thursday, Denver-based real estate firm RedPeak paid $46.25 million for Buchtel Park, a 269-unit property at 3700 E. Jewell Ave., according to a company executive.
Two days earlier, according to property records, Jewell Partners LLC paid $12.5 million for Alpenhaus Apartments, a two-building property at 4490 E. Jewell Ave. State records show the company was formed by Shmary Baumgarten, listing an office address in Brooklyn, New York.
The Buchtel Park purchase is the first since October for RedPeak, which now has more than 2,400 units across 27 Denver-area properties.
Chief Investment Officer Bobby Hutchinson said the seven concrete buildings in the complex were constructed in 1963 and 1971, and extensively renovated in 1991. He said RedPeak liked the location, which is within walking distance of light rail.
The units, a mix of one- and two-bedroom apartments, have been renting for an average of $1,050 per month, Hutchinson said. As tenants turn over, RedPeak expects to invest about $10,000 per unit and raise the rent.
The property was sold by Buchtel Realty Investors LLC, which paid $10.6 million for the complex in November 1996, according to property records. Tom Ethington, Rob Edwards and Michael Krebsbach of Pinnacle Real Estate represented the seller in the transaction.
Across the interstate, Jewell Partners purchased Alpenhaus from Winning Properties LLC, which was formed by Thomas Nguyen of Golden.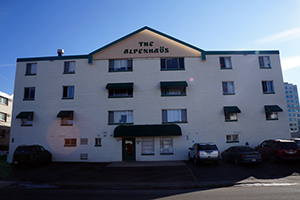 Jules Hochman and Justin Brockman of Pinnacle Real Estate represented the seller. Jamie Mitchell and Michael Krebsbach of Pinnacle represented the buyer.
The last arm's-length sale of the property was for $3.8 million in June 2000, according to records. The buildings on site date to 1968.
Baumgarten could not be reached for comment. In November, The Gazette reported that seniors living in a 70-unit Colorado Springs apartment building received eviction notices after Baumgarten purchased the property.