Kirk Williams, like every other Coloradan it seems, is outfitting a van.
But he has particular requirements beyond four-wheel drive and a bunk for sleeping. For one, he won't be using the foot pedals in his Ford Transit.
Williams, 30, broke his neck eight years ago in a mountain bike crash that left him paralyzed from the neck down with just a little feeling in his hands.
He's gone to Burning Man, zip lined in Costa Rica, traveled solo in Europe and played in wheelchair rugby tournaments nationwide. In 2019 he plans to embark on his most taxing journey yet: driving his new camper-van overland to Patagonia.
It will contain a sink, stove, bed, and importantly, room for drones. Williams makes his living as a drone pilot shooting aerial video and photography.
"If I can set something up that's specifically for me, I can be self-sufficient, and the sky is the limit," Williams said. "I can have that sense of adventure of seeing new places and doing photography work that I love to do … but have the medical home on wheels I need in order to stay warm or cold depending on conditions."
After growing up in Richmond, Virginia, Williams moved to Colorado to study sociology at CU Boulder. His first international trip was a study abroad stint to Ghana. Three months after graduating, he was working at bike shops, landscaping and taking photos of extreme athletes for ski and bike publications.
"I was good enough to keep up with them on a lot of stuff, but not to huck a backflip off a 50-foot cliff," he said. "No thanks, I'll go around."
On Nov. 8, 2009, Williams was mountain biking at Hall Ranch near Lyons when he went over his handlebars and shattered three vertebrae in his neck. Two days after the accident, he was supposed to meet with photographer James Balog, who was prepping for a trip to the Arctic to document shrinking glaciers.
"Right when I broke my neck I was like, 'F***, I have this meeting in two days,'" Williams said. "Can I put a Band-Aid on this, go to that meeting and deal with this later? I didn't quite realize how life-altering it was going to be."
Williams spent a week at Denver Health for surgery and two months in rehab at Craig Hospital. As a C6/C7 quadriplegic, Williams has control of muscles from his chest up. He has some control of his hands and arms, but can't actively squeeze any of his fingers.
Williams didn't go to the Arctic with Balog. With new limits on mobility and dexterity, it was difficult to operate a camera. But after some friendly prodding, he discovered that not only could he physically operate drones, but that the drones could take him places his wheelchair couldn't.
So he decided to make a business out of it.
"There aren't that many jobs I can do physically, and even fewer that I really want to do," Williams said.
He founded Birds Eye Optics, a commercial drone company, in 2012. His clients have included real estate businesses, Colorado State University and the U.S. Olympic archery team. In 2014, he drove to Alaska after raising $15,000 on Kickstarter.
"That aerial perspective hadn't been seen very much, unless it was from a plane," Williams said. "It felt like a new untouched wilderness to try and get a new perspective on from my wheelchair."
In five years, Williams went from not being able to shower by himself to operating a business and traveling all over the continent. But the hardest challenge is not the confines of his wheelchair – it's his energy.
"Whereas I used to be type A, I realized a productive day now is two items on a 20-item list," Williams said. "There's just no way to accomplish what I used to."
He said that makes his Patagonia ambitions all the sweeter.
South America doesn't have as many paved sidewalks, elevators or ramps for his wheelchair, but Williams is compensating with his custom van: cutting board drawers designed so he can slide back and forth, a magnetic inductive stove that turns off without a pot on it, and a transfer chair that swivels around so he can easily start driving.
He'll have a refrigerator, portable toilet, a shower on the back of the van, and solar panels for power.
"If I can build a van, my tiny house on wheels, my turtle shell," Williams said, "the only limitations are what sort of terrain the vehicle can go across. I can explore as far as the four-wheel drive can take me."
Williams works three to four paid drone jobs per month, but also is exploring other opportunities. Wheelchair manufacturer Sunrise Medical pays him for lifestyle videos, between showing how he eats enough fruits and vegetables without chopping them and driving his van to Patagonia.
It's the sort of sponsorship Williams hopes to increase as he looks to fund his Patagonia trip. In the meantime, he plans to film and publish a miniseries on the van he's getting outfitted by Ogden-based ETL Overland.
"It's important that I know the whole layout," he said. "If I'm in the middle of Bolivia and the fridge starts shorting out, I want to know where the wiring is for that."
Williams is still figuring out details of the van buildout, but one non-negotiable item is heating and air conditioning. Because of the spinal injury, his body can't regulate temperature by shivering or sweating.
"The temperature regulation is a pain in the ass," he said. "If I got stuck in the middle of the desert in the middle of the day, I could overheat and die."
Still, the lure of South American landscapes is too strong.
"I've always had a draw to the mountains in general and wilderness," he said. "I can drive from my doorstep to Patagonia. Since I've already gone through Canada and Alaska, the only direction to go is South America."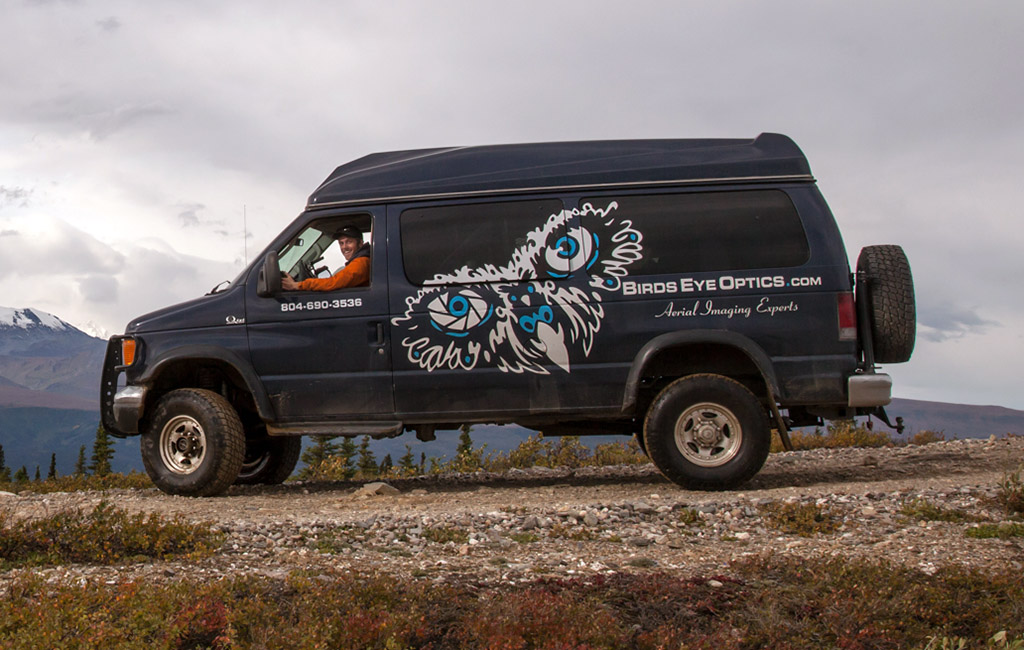 21901