An Oakland-based firm that developed property at the former Staple International Airport plans to take a stab at developing the Loretto Heights campus in southwestern Denver.
Catellus Development Corp. announced Wednesday it has signed a purchase agreement for 70 acres at 3001 S. Federal Blvd., which most recently housed the shuttered Colorado Heights University.
VP Tom Marshall said the agreement kicks off a due diligence phase. He would not disclose terms of the deal.
Japan-based Teikyo University Group, which ran CHU, purchased the campus in 1989 for $7 million, according to property records.
The campus' educational roots date to the 1890s, when the site was home to girls school Loretto Heights Academy.
In a statement, President Fred Van Liew said Catellus "will be an ideal fit for this project because of the company's strong history of community engagement on other projects with historically significant sites."
CHU and Teikyo hired CBRE Land Services to market the property. Senior vice presidents Eric Roth and Martin Roth represented the seller.
Marshall said the college wanted a buyer that would preserve the administration building on campus, which dates to the 1890s, and an adjacent chapel built in 1910.
"Generally, we think the greatest market opportunity is residential – kind of a residential village," he said. "It's a tremendous site in respect to views and topography."
Catellus' local projects include the Stapleton Business Center, a 295-acre business park at the site of the city's former airport. The firm also developed the Circle Point Corporate Campus in Westminster.
When it announced plans to close, CHU cited declining enrollment and a U.S. Department of Education decision to deny accrediting authority to the entity that had been accrediting CHU programs.
The university explored other options before deciding to close. In September 2015, CHU and Metropolitan State University of Denver announced they had signed a letter of intent for MSU-Denver to take over and renovate a 52-acre portion of the campus. MSU backed out of that deal in March 2016, saying the estimated costs of renovating the campus were too high.
Earlier this year, Denver Public Schools purchased a 6-acre portion of the CHU campus that it had been leasing since 2012 for the Denver School of Science and Technology: College View.
CHU said at the time it would put the remainder of its campus up for sale. All the university's students either graduated or have transferred to other schools, according to Catellus.
Marshall said CHU also plans to donate a cemetery onsite to the Sisters of Loretto, a Catholic religious order that has worked on the campus.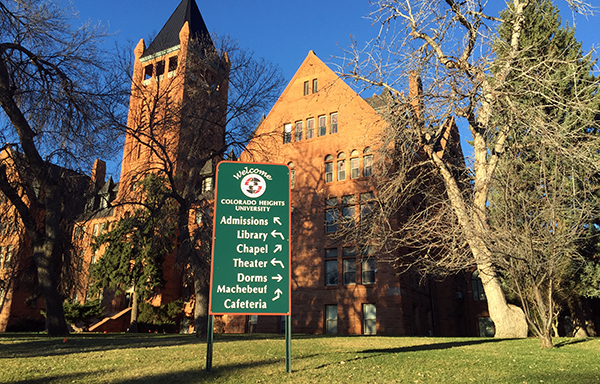 21502