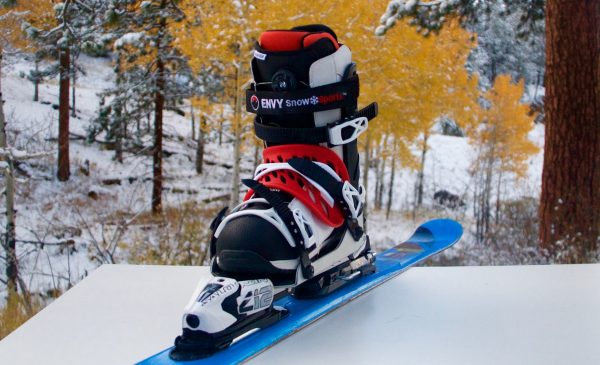 The "Frankenboot" is alive!
For more than three years, Chris Schroeder and his father Mike have tinkered with an invention that lets skiers lace up snowboard boots –warmer and comfier than their more rigid cousin the ski boot – and then click into a pair of skis.
Golden-based Envy Snow Sports has manufactured 2,000 ski frames ready for customers, which are available online and in two Colorado ski shops: Eskimo Ski + Board Shop in Centennial and Colorado Kite & Ski in Colorado Springs.
The frames, manufactured in Taiwan, sell for $379 on Envy's website and Amazon.
"The idea initiated when I was skiing with my father, my sisters and my mom," said Schroeder, 25. While he and his father could stay out all day while snowboarding, his mom and sisters, who were skiers, checked into the lodge early. "My sisters and mom would get foot cramps and would get cold."
The Schroeders wondered if it would be possible to ski in snowboard boots.
"Our first prototypes were pretty rough," Schroeder said. "But with enough reinforcement, a snowboard boot could be stiff enough to go skiing in."
The Schroeders brought their 3D prototype to the SIA show in Denver three years ago, garnering some criticism and constructive feedback, Schroeder said. They kept working.
At the SIA show two years ago, skiers started demoing the product, and told the Schroeders to make it lighter and less bulky.
The pair came back to the show this year with a redesigned product made of aluminum and plastic.
"We are not a high performance product," Schroeder said. "We cater toward the beginner and intermediate skier, somebody who enjoys staying on the groomed runs."
Envy's ski boot frames do not provide quality tip control, Schroder said. In addition, the foot is not completely immobile in the cinch system, which is more comfortable, but sacrifices performance.
"Our goal is to be the most comfortable," he said. "That's the reason we're not on the highest level."
Skiers looking for powder or tree runs should point their ski tips toward Golden-based Apex Ski Boots, which manufactures a two-in-one ski boot system with an outer shell and an inner shell. The company relocated from Boulder to Golden last summer, BusinessDen reported.
"They (Apex) are marketed toward the high performance range and their price reflects that," Schroeder said.
Envy employs three people in addition to Schroeder's father, who oversees the operations of the company. The company is based in Golden, with small offices in both Lakewood and Chicago, Schroeder said.