The city of Denver's quest to add 110 acres to the National Western Center is infuriating some landowners. Especially as the city ramps up use of eminent domain.
Eight properties within the 110 acres of Elyria Swansea that the city hopes to add to the National Western Center's campus have landed in Denver District Court in nine months, records show. Two were filed last week.
One owner, Le Mouton Noir, last week upbraided the city in rebuttal to an eminent domain lawsuit the city filed in June.
Eminent domain "destroys, as here, whole businesses, livelihoods, careers and dreams," the company wrote in District Court in Denver. "The property at issue is owned by a local family with deep ties to the Denver community, has provided jobs for three generations of that family, and would have supported the retirement and employment aspirations of those generations, and many to come."
Le Mouton Noir owns a 9.7-acre business park on the east side of the Platte River, less than a mile from the National Western complex. The company is managed by Eric Black, husband of Denver City Councilwoman Kendra Black from District Four in southeast Denver.
Le Mouton Noir, French for "The Black Sheep," argues the city did not negotiate to buy the land in good faith, that it does not have the authority to condemn its property and that state law bars it from seizing properties to spur economic development.
The business park owner is calling on the court to dismiss the city's petition to condemn its property at 4877 National Western Drive.
In petitions to condemn property, the city says the National Western Center expansion will turn the neighborhood into a center for education, innovation and entertainment.
The city identified 38 parcels of private property it would need to acquire. Erika Martinez, spokeswoman for the Mayor's Office of the National Western Center, said the city started meeting and negotiating with property owners as early as possible.
"We're committed to giving folks fair market value," she said.
And Martinez said most property owners – 30 of 38 parcels – have hammered out deals with the city without entering a courtroom. Eminent domain, she said, is a last resort.
Still, eminent domain is not a new tool for Colorado agencies with development projects.
The Colorado Department of Transportation has invoked eminent domain on highway-widening projects for more than two decades. Earlier this summer, Denver used eminent domain to acquire land for the widening of Federal Boulevard. Outside the city, municipalities like Gypsum and Lafayette have condemned properties in attempts to take land.
In the case of the National Western Center expansion, Le Mouton Noir claims that Denver belabored price negotiations.
The business park owner says the city offered to pay $17 million for its 9.7-acre property in December 2016. Le Mouton countered with $53 million.
Over the next six months, Le Mouton claims that the city ignored requests to negotiate and balked at a pair of appraisals that pegged its land value at $37 million and $43 million.
Le Mouton says the city invited it to mediate the dispute in June. But before Le Mouton could accept the proposal, court documents allege, the city filed a petition to condemn the property.
Le Mouton claims the city used 8-year-old comps in its appraisal and dodged Le Mouton's attempts to meet and discuss valuations.
It argues the city has failed to cite reasons – like the need to install streets, utilities or parks – that typically give governments the authority to condemn properties.
And finally, Le Mouton says state law prohibits taking private property and transferring it to benefit private industry. In the case of the National Western Center, the business park says, expansion benefits the Stock Show as well as businesses like hotels and restaurants.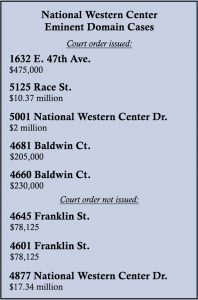 "Although there is nothing wrong with city business leaders wanting to generate revenues for their businesses, or with the city seeking to assist commercial interests within its boundaries, the city cannot do so by using eminent domain power to confiscate private property," Le Mouton says.
William Leone with Norton Rose Fulbright US is representing Le Mouton Noir and other respondents named in the city's petition in condemnation.
Based on a review of petitions in condemnation filed by the city and Denver County property records, the city has paid as much as $79 per square foot on land going through eminent domain proceedings. Of condemnation cases that have been resolved, the median purchase price was $34 per square foot.
One property owner – Tom Anthony, a neighborhood activist who owns a former packing plant at 5001 National Western Drive – has gone to trial. A judge in February 2017 entered an order to sell the 0.6-acre property for $2 million.
Two more property owners have settled. One is Lorenzo Ferrer, who operated a barbershop and small store at 1632 E. 47th Ave. He said the city ultimately paid $475,000 for the property, which an appraiser told him was worth $525,000 and which Ferrer initially thought he could sell for $800,000.
"They're a bunch of bullies," Ferrer said of the city. "They've got power and they try to take the little guy out."
That leaves five property owners whose condemnation proceedings are pending.
R. Scott McDougal is the latest to join. The two small parking lots he leases to National Western at 4601 and 4645 Franklin St. were called out in two petitions in condemnation last week.
McDougal said that the city's offer of $156,000 for 6,250 square feet of parking doesn't come close to the money left on the table by turning over the lots.
"They're offering us a pittance and we're asking more," McDougal said. "I don't know whether David or Goliath will win."
19227