Every winter powder junkie needs his summer fix, and Andrew Beckler has his warm-weather cure.
The 30-year-old founder of Grass Sticks, a Steamboat Springs startup that makes ski poles out of bamboo, last month released a line of bamboo paddles for cruising on water instead of snow.
Just like the ski poles Grass Sticks has made since 2014, Beckler said, bamboo has the right balance of strength and flex for navigating the Yampa River's rapids on a stand up paddle board.
"You want it to be light so you can have more endurance," Beckler said, "and you want to make sure it's going to be strong in a whitewater scenario."
Just like in ski season, the company's paddles are competing against products made from carbon fiber.
Grass Stick paddles consist of a bamboo pole with a fiberglass blade on the bottom and handle grip at the top. They come in three blade colors and can be cut to custom lengths.
Beckler said he spent $18,000 to start manufacturing bamboo paddles, including the cost of buying bamboo in the Calcutta region of India. Grass Sticks uses the same species of bamboo for its paddles as it does for ski poles, but with a wider diameter.
The paddles sell for $219, more than double their production cost, Beckler said. He said Grass Sticks is ready to sell 100 paddles in its inaugural water sports summer.
Grass Sticks gear is available online and at a handful of Steamboat retailers, including Ski Haus and Black Tie Ski Rentals. The firm brought in $100,000 in sales last year, Beckler said.
Grass Sticks has ventured beyond the ski slopes, but Beckler isn't out of the garage yet.
The founder has left his Buena Vista bartending job to work on Grass Sticks full time, but continues manufacturing both the poles and paddles out of his one-car garage in Steamboat.
"This might be the last winter we can fit in the garage," he said. "We'll probably have to upgrade to a bigger (space)."
And Grass Sticks plans to keep up its summer gig. Beckler has his eye on a line of canoe paddles next.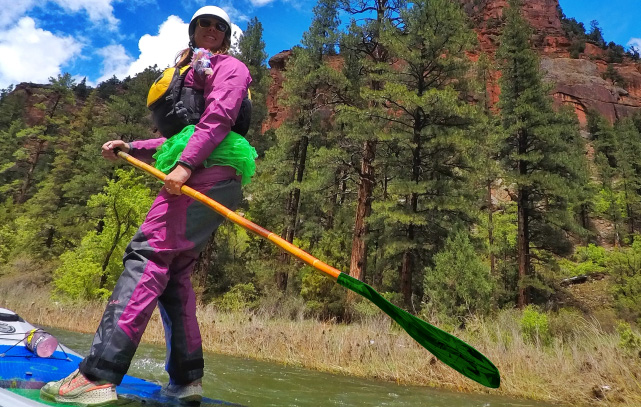 18340