Even if their outfits make you crack up, a Boulder startup's $3.4 million capital raise is nothing to laugh at.
Shinesty, which sells outrageous clothes with raunchy descriptions, just stuffed $3.4 million into its fanny pack. According to SEC filings, 37 investors participated in the round so far.
Co-founders Chris White, Jens Nicolaysen and Michelle Frey-Tarbox started Shinesty in 2014 to populate the Rocky Mountains with outlandish ski suits, loud tank tops and other cringe-inducing outfits. Nicolaysen declined to comment when reached by phone.
For men, Shinesty varies from star-spangled jackets and pants to jean speedos (also known as the jeado) and short-sleeve onesies. Women's clothing includes American-themed jackets and dresses, ski suits and sweaters, and Lisa Frank ski gloves.
Suits like the Grand Cayman Dinghy Flamingo Party Suit or the Highly Seductive Leopard Suit sell on Shinesty's website for $100.
The company lists about 30 staffers on its website, and works out of 1990 57th Court North.
With this latest raise, Shinesty has put investments of $5.1 million into the pockets of its ironic overalls.
More reading: Startup tries adult onesies on for size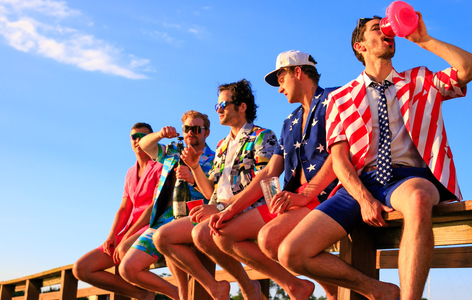 17276