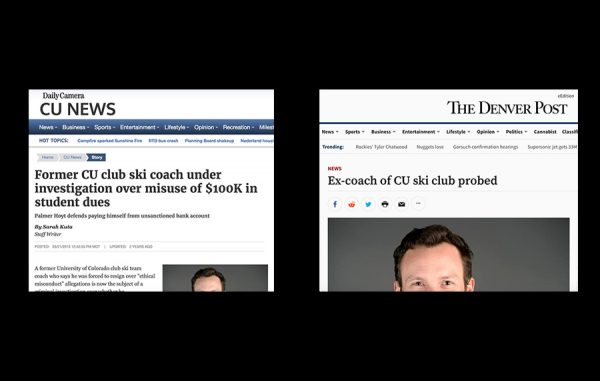 The grandson of a former Denver Post publisher has sued the Post and Boulder's Daily Camera newspaper for defamation, accusing the newspapers of shoddy journalism in their coverage of his 2013 dismissal as coach of the University of Colorado Boulder's club freestyle ski team.
Palmer Hoyt, named after the Palmer Hoyt who led the Denver Post from 1946 until his retirement in 1971, says the newspapers repeated false claims of financial impropriety and quoted a source he told them shouldn't be trusted.
The one-time coach, represented in court by his father Wesley W. Hoyt, alleges in a complaint filed March 20 that the newspapers reported embezzlement accusations made by CU Boulder's former club sports director Kris Schoech even after Hoyt showed a Daily Camera reporter contradictory evidence.
The Daily Camera published articles in which Schoech claimed that Hoyt opened an outside bank account for team expenses behind the University's back in order to embezzle money from the team.
Hoyt claims Schoech, who has since left CU Boulder, used him as a scapegoat. Hoyt says that he opened the team bank account with Schoech's blessing, and says that external accounts were a common way for CU club teams to supplement coaches' salaries from the university.
And Hoyt claims that the stories – which come up as soon as his name is Googled – tarnished his reputation. On his LinkedIn profile, Hoyt currently lists a position as a financial advisor at Centennial State Financial in Greenwood Village.
"The false accusations based on Schoech's lies which have been widely published on the Internet have ruined Hoyt's reputation in both the ski industry and the business community," the complaint filed in Denver County District Court alleges.
"(The articles) have prevented him from obtaining gainful employment, thus causing him severe financial hardship, mental and emotional anguish and other injuries and damages."
Hoyt's complaint names the Camera, Camera reporter Sarah Kuta, Camera editor Kevin Kaufman, The Denver Post and Kris Schoech. The Post and Camera share the same owners and share news stories.
In an email to BusinessDen, Daily Camera publisher Albert Manzi declined to comment.
"The newspaper has not been served with the complaint and so is not able to comment on it at this time," he wrote. "But we believe our reporting on this controversy was sound and will defend the lawsuit if necessary."
Hoyt was the head coach of the CU Freestyle Ski Team from 2005 through 2013. During that time, the team grew from 30 to 90 athletes, Hoyt says, and took home five national championships. At the time that Hoyt left CU, he was about to take the team to compete in Trentino, Italy.
In his lawsuit, the former coach claims that he was asked to resign in November 2013 after a student athlete made "nebulous and false accusations" that he touched her inappropriately. According to the complaint, Hoyt then paid himself $50,000 back pay from an outside bank account just before leaving.
More than a year later, in March 2015, The Daily Camera published an article about a criminal investigation into misappropriation of team funds. It cited Schoech as a source alongside the Boulder County District Attorney's office, the Boulder County Sheriff's Office and CU. Schoech told the Camera that Hoyt opened the club ski team's bank account without Schoech's or the University's consent.
Hoyt also goes on the record in that story, telling reporter Sarah Kuta that he had done nothing wrong and that "all the monies that were paid to me were legitimate and should have been paid and have a basis for having been paid."
In the lawsuit, Hoyt says Schoech lied in order to cover up the fact that he had authorized many club teams to have external bank accounts in violation of CU policy. And he claims that the Camera "had a duty to make further inquiry" into Schoech's allegations. Schoech left CU in December 2014.
The Daily Camera followed up in April. For that story, Kuta reported on two documents Hoyt says exonerates him, a note written on university letterhead stating a salary in excess what the university paid him and a pair of checks from the team's external account that were accepted by CU. She also quoted Schoech, who claimed the letter bearing his signature was a forgery.
Later, the Daily Camera also reported that an internal CU investigation did not find Hoyt guilty of fiscal misconduct under university rules. But the Camera also reported that a criminal inquiry by the Boulder County sheriff's and district attorney's offices was ongoing.
In an email to BusinessDen, Wesley Hoyt said he wants the newspapers to print a "full and complete, prominently-placed retraction," saying their reporting was inaccurate, that Schoech lied and that the sheriff's department has closed its investigation with no finding of wrongdoing. He also wants the Camera to de-index its articles so that they do not appear in Google search results.
"No recent settlement efforts have been made," Hoyt wrote to BusinessDen, "but plaintiff intends to explore a resolution before further action on the complaint is taken."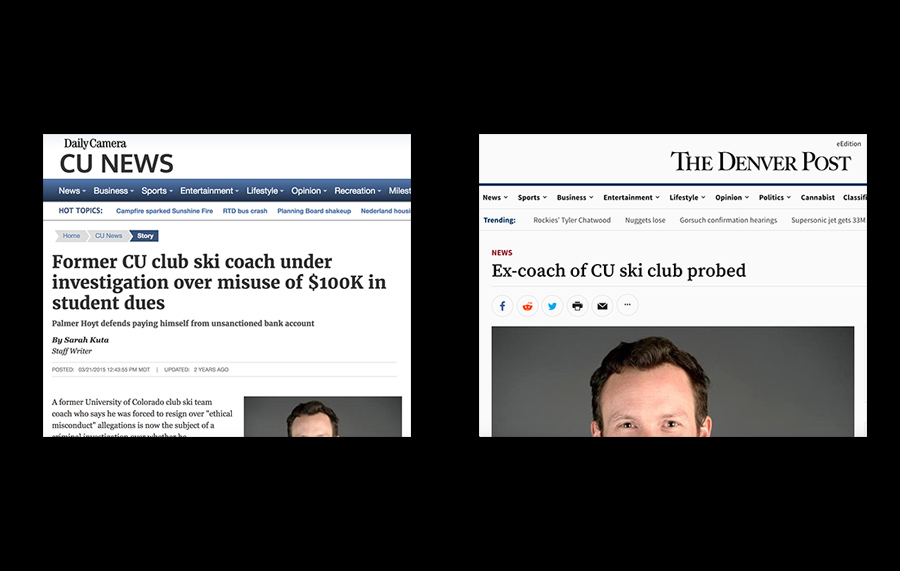 15604