Chicken sandwich concept Birdcall hasn't even taken flight yet. But its founder, Park Burger owner Peter Newlin, already is hatching a second location near DU.
While Newlin's first Birdcall in Five Points is due to spread its wings this month, he plans to open a drive-thru and eat-in Birdcall at 1535 E. Evans Ave. in June. He signed the lease on a former Twisters drive-thru two weeks ago.
"We wanted to test the drive-thru concept with Birdcall," Newlin said. "We just loved that neighborhood. Platt Park is where it all began for us."
Newlin, who also owns Homegrown Tap & Dough on South Gaylord, said his plan for Birdcall is to sell chicken sandwiches at a fast-food price without stooping to fast-food quality.
To do that, he's decreasing overhead by installing kiosks and making a mobile app for customers to order and track food.
"Something had to give," Newlin said. "You had to either raise the price or decrease the quality … we wanted to not only increase the quality, but decrease the price."
Newlin is hiring 12 to 15 employees for each restaurant. The eatery hired Scheme Works Studio to design both Birdcall locations, as well as Liv Studio to design the drive-thru location. Newlin does not yet have a contractor to renovate Twister.
AXIO Commercial Real Estate marketed the building on the landlord's behalf.
Birdcall's first perch is on 26th Avenue in Five Points, in the building that housed comfort food spot Tom's Home Cookin' for more than 15 years.
The menu includes a variety of chicken sandwiches, including cordon bleu, Nashville Hot and kimchi. Lunch sandwiches will range from $5 to $8, and breakfast sandwiches will be between $3.50 and $6.
Birdcall also will serve items all over the health spectrum, from a red velvet cake milkshake to grilled chicken and salads. Newlin said Birdcall will have Corvus Coffee and fresh-squeezed juice for morning customers, as well as beer and wine options.
Birdcall will be open from 7 a.m. to midnight every day.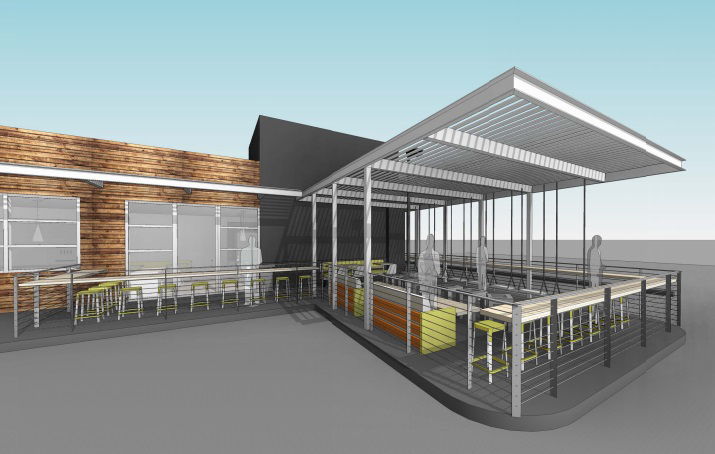 15449