With RiNo lease rates at an all-time high, there's no site too small to take vertical.
Derek Lis is preparing to break ground on a $5 million restaurant and office building on a tiny sliver of land near 33rd and Larimer streets. It's the second leg of a project Lis and another group of investors started almost five years ago by renovating an existing warehouse next door.
"When we finished that renovation, we had this dirt next door and thought we might build something else 10 years down the road," he said. "Then RiNo rents kept going up, and we decided to take on a new project."
The lot covers about 6,200 square feet between an office building at 3254 Larimer St. and the Dio Mio restaurant at 3264 Larimer St. Plans call for a three-story building.
Lis said the entire building is preleased.
The first floor will host Julep, a southern-style restaurant by husband-and-wife team Kyle and Katy Foster. Katy heads up Stir cooking school and Kyle is a butcher at Colt & Gray and Rebel restaurants across the railroad tracks at Wynkoop and 38th streets.
Voca Public Relations will open an office on the second story. Lis also plans to move his own office into the building, and looks to add a small coworking area with leasable desk space or a few offices on the second floor.
An upstart dentist's office named RiNo Dental will move into the third floor.
Lis has controlled the site, in one form or another, for about five years. He and another group of investors bought a small warehouse building and the land he's now building on from an office furniture company in 2012. They paid $615,000 for the building and the land.
"In 2012 when we were looking at it, there was already something about this neighborhood," he said. "We knew things were going to be changing."
But Lis said he didn't foresee RiNo charging ahead at the pace it has since the deal closed. He remembers Infinite Monkey Theorem and restaurant Populist both popping up in the neighborhood shortly after his group bought the site.
Lis and a new group of partners bought out the original group from the 2012 sale and subsequent renovation. The real estate sold to its current owners near the end of August 2016 for $944,000, according to city records.
The deal included both the renovated warehouse, which is fully leased to Design & Image Communications, and the development site.
Lis, who splits his time between managing multifamily housing and brokering residential and small commercial deals, said this will be his first ground-up development. And squeezing a new building onto a 6,200-square-foot patch of dirt wasn't an easy endeavor to plan.
For starters, Lis has only three parking spots behind the building, which he says isn't enough for a project this size. To remedy that problem, the company is leasing a dozen spots from the Rockies at a Coors Field overflow lot at 33rd and Blake streets. Lis said he also picked up a parking exemption by putting a restaurant on the first floor, instead of office or retail space.
The team also is putting a patio in front of the restaurant space, which will set the building back a bit from the sidewalk. While the property is zoned for three stories, Lis said the setback will keep it from sticking out too much in between a pair of single-story buildings.
But the tiny development site did give Lis a name for the new project. He's considering calling it the Oxpecker Building, after a species of African birds that ride around pecking ticks and other bugs off the backs of zebras, hippos, and yes, rhinoceroses.
"We figured we're a little piece adding onto RiNo," Lis said.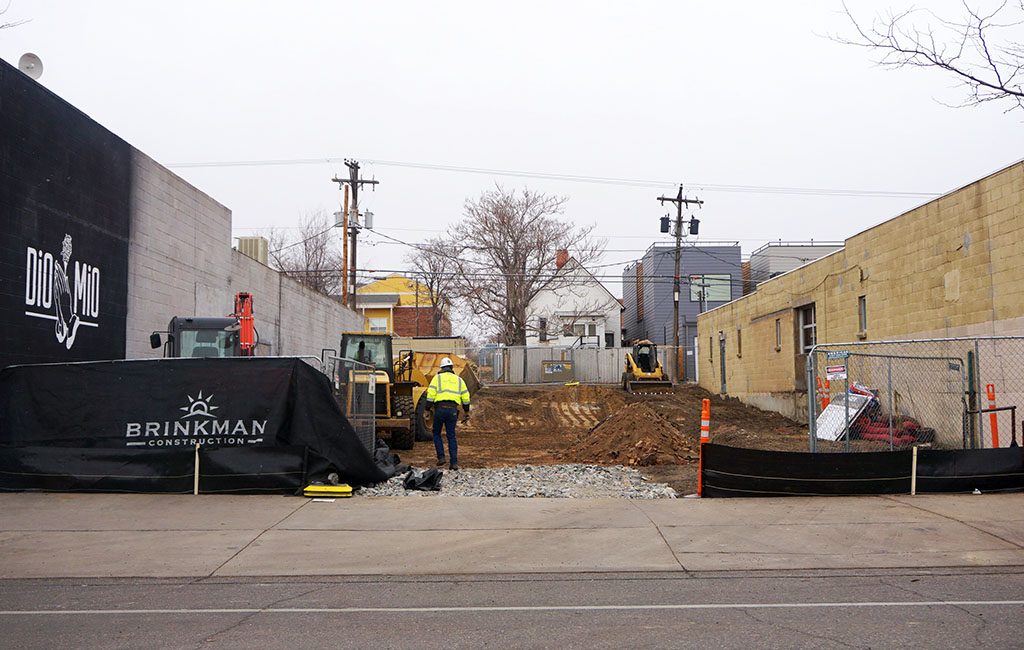 15053