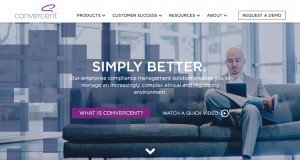 Convercent CEO Patrick Quinlan thought he would be spending six to nine months courting new investors for his fast-growing software startup.
Instead, Quinlan spent just 18 days in fundraising mode and has landed $10 million in the bargain, according to an SEC filing Feb. 9.
"We actually weren't planning on raising money until the end of the year," he said. "It just kind of made sense to take the whole issue off the table."
Thanks to a Series D from existing investors Tola Capital and Sapphire Ventures, Quinlan is now looking at 2017 as a year to focus on hiring salespeople and software engineers, instead of pitching investors. The company has now raised about $47 million, according to a tally of SEC filings.
Convercent, which makes compliance software used by businesses as small as a minor government contractor and as large as Time Warner, is already hiring at blistering pace. In June, the company was at 57 full-time employees; in a few weeks' time, Quinlan thinks they'll be up to 100.
More than 80 of those workers are based in Denver, with a handful working remotely in the U.S. and a few more at the company's new office in London. While Quinlan doesn't have to court venture capitalists, he is looking to upsize from the 26,000-square-foot office the company occupies at 929 Broadway.
The startup, a product of the 2012 merger, has cracked 500 customers, Quinlan said, adding more in the last quarter of 2016 than in all of 2015.
To maintain those customers and net some more, the CEO said Convercent is turning its attention toward combining business data like internal company expense reports and third-party payments with compliance data.
Quinlan thinks cross-referencing that data might one day let customers spot potential compliance violations in their infancy. One example: if Walmart officials could cross-check payments to law firms in Mexico against their own internal expense reports and compliance records, Quinlan said, they might have caught a pattern that turned out to be an expensive bribery scandal before it grew any larger.
"It's not like they're going to put (bribes) on the invoice," he said.