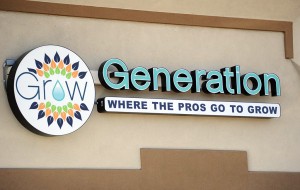 Hydroponics supply store GrowGeneration is transplanting its headquarters from Pueblo to Denver.
The startup plans to put down roots in a new 12,800-square-foot headquarters at Mississippi Avenue and Jason Street in Ruby Hill. Set to open in early March, the new office, retail space and warehouse will be GrowGeneration's 12th store in the country and its second in Denver.
President and co-founder Michael Salaman said the business, which sells soils, lighting and other equipment, is moving from Pueblo to Denver to be near Ruby Hill marijuana growers.
"We identified over a hundred licensed growers that are within the same zip code," said Salaman, including Colorado Harvest Company.
GrowGeneration is one of a handful of hydroponics chains that have sprouted around town since the legalization of marijuana.
The firm is moving two miles west of one of its biggest competitors, Way to Grow. In March, Way to Grow snapped up 32,000 square feet in a RiNo warehouse. It has seven locations in Colorado.
Another local rival is hydroponics supply franchise Grofax, which grew from its flagship store on East Colfax in 2011 to eight locations in the metro Denver.
GrowGeneration's new headquarters will house a dozen employees and a half-million dollars in inventory, Salaman said, which the company will distribute around the state.
The startup leased the space from Manchester Commercial Holdings on Feb. 1, and will pay $5,600 in monthly rent, according to SEC filings.
Meanwhile in Trinidad, GrowGeneration also signed a new lease, replacing a smaller store in that market.
Salaman and CEO Darren Lampert started GrowGeneration in 2014. Salaman departed a post as chairman of a powdered beverage company, and Lampert left a career as a securities attorney and stock trader.
"We decided to go into the picks and shovels," Salaman said.
The pair raised $600,000 from friends and family to purchase four hydroponics supply stores from Pueblo Organics and Hydroponics. The company said revenue was $2 million in its first year.
Salaman and Lampert took the company public in October 2016 on OTC Markets Group's Venture Market. Salaman said the firm has raised $4 million to date through private investors and public stock offerings.
GrowGeneration crossed into the black for the first time in the third quarter 2016, the last time it filed a quarterly report with the SEC, reporting net income of $10,844 on sales of $2.1 million. It now has about 50 employees, Salaman said.