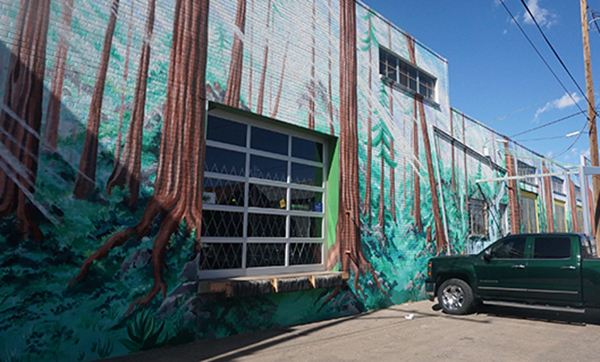 It didn't take long for a competitor to grab a RiNo warehouse after a marijuana supply company shut down last month.
Way to Grow, a Fort Collins-based agriculture supply company, has taken up residence in former competitor Grow Big's old digs at 4501 Wynkoop St. Grow Big shuttered the location in February.
Rick Byrd, founder of Way to Grow's parent company Pure Agribusiness, said that he was drawn to the spot in spite of a competitor failing in the same location.
"When (Way to Grow President and CEO) Jim Blaha went there to tour the property, people kept asking what happened to Grow Big, so if anything it means there's already a customer base there that we can capitalize on," Byrd said. "(Grow Big) didn't fail because of its location. If you're making millions of dollars in revenue and you still fail, it's because of the operators, not the business."
The new shop will cater to commercial cannabis growers instead of private hobbyists growing at home, Byrd said. While walk-in customers will be welcome, the majority of the store's business will come through advance orders.
Way to Grow will take possession of the property today, Byrd said. The company signed a seven-year lease on 32,500 square feet of the 50,000-square-foot warehouse.
Blaha said the company is paying $24,500 per month to rent the space and spending about $1 million to renovate the warehouse. The new location will open this summer.
The warehouse will stock about $7 million worth of inventory and should do about $1 million in sales monthly, Byrd said.
"Being close to Denver and being close to so many large grows, I think it'll be easy for us to hit that number," he said.
Way to Grow was founded in 2002 in Fort Collins and has grown to seven retail locations in Colorado and California. Byrd's company, Pure Agribusiness, bought Way to Grow on Jan. 1. Byrd said Pure Agribusiness made $65 million in revenue last year, and he expects the company to surpass $100 million this year.
Byrd said Way to Grow's next move will be to find a location in Pueblo to cater to that city's budding cannabis industry.
He said though Way to Grow caters to the cannabis industry, the company's future lies in equipping urban farmers that grow such crops as tomatoes and fruit.