A Golden-based knife manufacturer known for aggressively protecting its intellectual property says a cheaper model sold by one retailer hews a little too close to its trademarked switchblades in an attempt to undercut business.
In a lawsuit filed in U.S. District Court in Denver, Golden's Spyderco sued Kittery Trading Post, claiming the Maine-based retailer has carved out an illicit niche selling knockoff Spyderco knives for a sliver of the price and quality of the Colorado-made products.
In the lawsuit filed Dec. 14, Spyderco alleges that Kittery counterfeited a pair of Spyderco's most popular folding knife models, the Military and the Para-Military, right down to the same logos and "made-in-Golden" labels.
Kittery Trading Post is one of three business names used by Kevin Inc., the Maine corporation Spyderco names as a defendant in its lawsuit.
Spyderco is seeking a court order that would recognize that Kevin has committed counterfeiting and trademark infringement, that would enjoin Kevin from counterfeiting again and that would award Spyderco no less than $600,000, plus other damages and the cost of litigation.
Spyderco was founded out of a truck in 1976 before settling in Golden in 1981. Today it sells about 200 products, including knives targeted at first responders, collectors, chefs and sportsmen.
The company has aggressively defended its patents and trademarks in a number of lawsuits going back at least to 1994, federal court records show. That includes four trademark infringement cases the knife maker filed in each of the past four years. Spyderco did not return messages seeking comment.
Spyderco's lawyer in those cases has been Robert Brunelli of Sheridan Ross. Brunelli was not available for comment.
Kittery Trading Post, meanwhile, is an outdoor recreation retailer in Kittery, Maine, with more than 90,000 square feet of retail space. The lawsuit alleges that Kevin, which also operates a gun dealer and has been owned by the same family since 1938, has annual pretax profits of $25 million. Company leadership did not respond to messages seeking comment.
Spyderco normally sells its Military and Para-Military knives, made from a particular kind of steel that the brand touts as a sign of quality, for between $200 and $280 each, according to the lawsuit.
But this fall, Spyderco claims, Kittery Trading Post started selling knives that "look identical to authentic Spyderco Military and Para-Military knives."
According to the complaint, the knives are so similar, Spyderco hired a metallurgist to test them in order to confirm that they were neither made in Golden, nor made of the steel advertised on the blade.
Instead, Spyderco alleges, Kittery likely bought them "from a Chinese distributer (sic) for approximately $10 per unit," then marked each knife up to $75 or $80 apiece and still managed to undercut Spyderco by as much as two-thirds of the authentic knives' retail value.
"The only reason (Kittery) can generate this obscene profit is because Spyderco spent decades generating a strong product offering, demand for its high quality goods and a near-cult following for its Military and Para-Military knives," the lawsuit says. "(Kittery) is free riding on Spyderco's corporate and product reputations to generate unbridled corporate gain and is undercutting the (manufacturer's suggested retail price) of authentic Spyderco Military and Para-Military knives by approximately 300 percent to achieve its goal."
For Spyderco, the names of Kittery's alleged knockoffs were the last twist of the knife: Kittery called its models Clone/Paramilitary and Clone Military.
Counterfeiting is a persistent problem in the knife industry. Swiss Army knife maker Victorinox AG has taken a stab at fakes in a high-profile trademark lawsuit. Another case of alleged knife counterfeiting pinned blame on Martha Stewart and Emeril Lagasse for knives they hawked on the Home Shopping Network.
Knife enthusiasts have sometimes taken justice into their own hands. Spyderco fans frequently flag suspected fakes and shady-seeming dealers on Spyderco's online discussion forums as a way to share intel with fellow fans.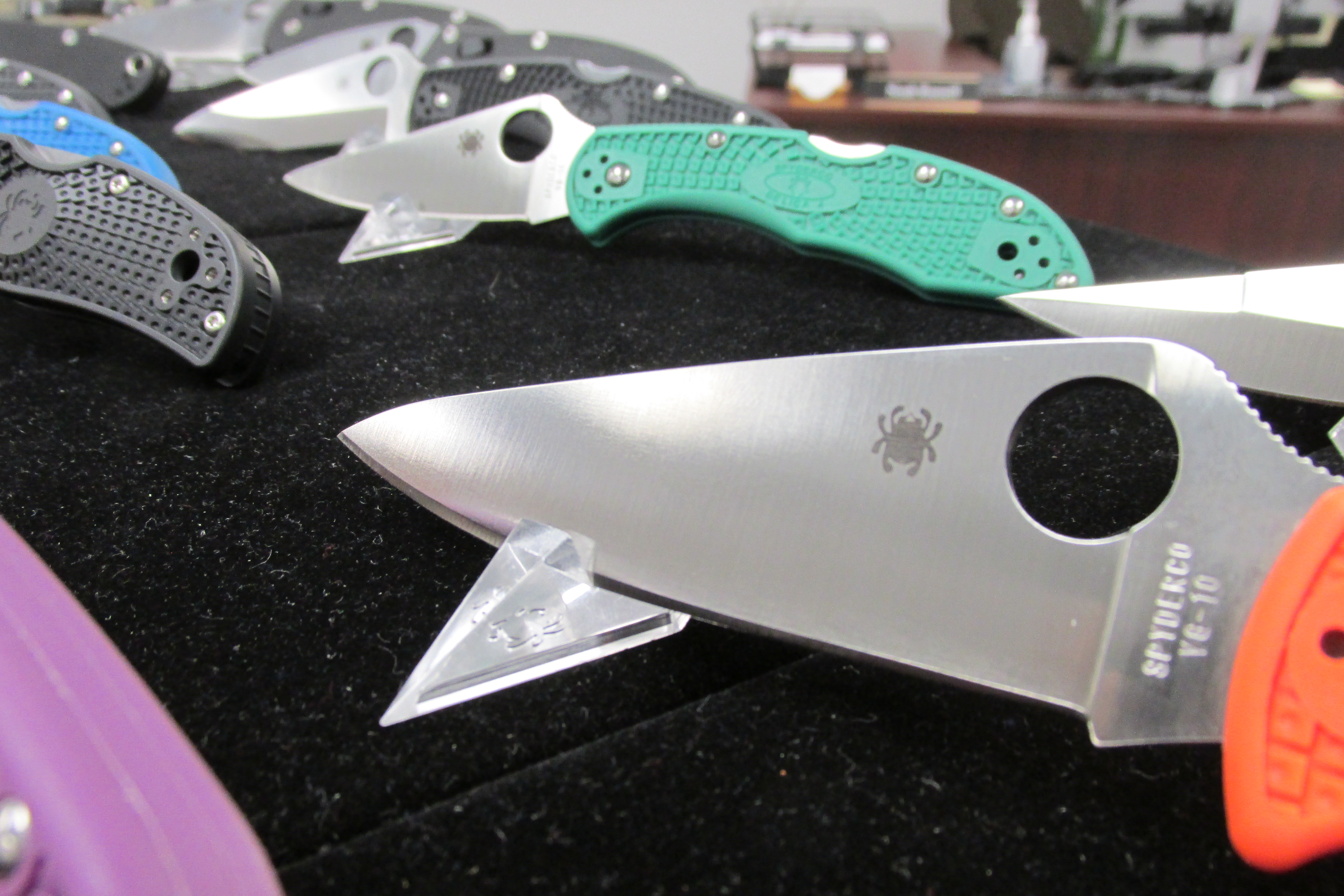 13521