With a new partnership solidified, a local real estate firm is ramping up the flow of development in River North with a nearly 5-acre master-planned development.
Developers Bill Parkhill and Ryan Arnold, who have been investing in RiNo together for more than a year now, announced the launch of Tributary Real Estate last week.
Arnold, who recently left a brokerage job at JLL to focus on Tributary, said the company is working on a master-planned redevelopment at the 4.5-acre Giambrocco Food Services site along Wazee Street.
"Our plan is to stay pretty laser-focused on the River North, Globeville and Stock Show areas, but we definitely know all of the urban areas surrounding downtown pretty well," Arnold said. "We've done some projects in LoHi and looked at other opportunities, but River North is our focus."
Tributary is already laying the groundwork for some major River North projects. They are a partner in a planned 150,000-square-foot office and retail building at 36th Street and Brighton Boulevard and also own about half of the south side of Brighton's 3500 block.
But their biggest project sits just off Brighton, near Wynkoop and Wazee streets, where Arnold said Tributary is three land deals away from finishing a 4.5-acre acquisition around the Giambrocco Food Services facility.
Arnold hopes to have the entire site in hand by spring, and Tributary is planning a master-planned, mixed-use community.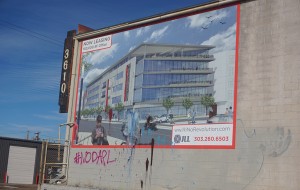 "We have plans for pretty large-scale residential units and multifamily sites," he said. "Along the railroad tracks and along Wazee we're planning some office, hotel and some more owned residential."
Market cycles will dictate when Tributary puts shovels in the ground at the Giambrocco site, Arnold said. In the short term, he added, the properties are well-kept industrial sites that Tributary will be able to lease out.
Arnold was a broker and vice president at Denver's JLL office for 12 years. He focused on representing tenants and buyers, and helped put together numerous land transactions and assemblages.
Parkhill is an architect and developer who has been working in Denver real estate for 35 years. He previously headed Parkhill Development and has taken part in more than $225 million of local development projects, according to a company press release.
Tucker Crockett, who Arnold said recently moved to Denver from the East Coast, rounds out Tributary's three-man, full-time staff.
Tributary is just one firm contributing to River North's rapid flow of development. Arnold acknowledges the torrid pace of RiNo could slow in the coming years, but thinks there's still plenty of work to be done in the fast-changing neighborhood.
"I definitely see it starting to level off from a pricing standpoint, but the opportunity for continued growth is there for another decade plus," Arnold said. "While the Denver market is slowing down compared to what it's been like for a couple years, I see RiNo to still have quite a bit of run room."