Business plans based on booze and bugs won the biggest checks at an annual competition hosted by the University of Colorado Denver on Thursday night.
Barventure, which makes a mobile app that bars can use to send customers discounts and promotions, beat out seven other contestants to win a $10,000 prize in the business plan competition sponsored by the Jake Jabs Center for Entrepreneurship at CU Denver.
Another winning company was Lithic Nutrition, which garnered a $7,500 check for the protein powder and snack bars it makes from crickets. A smaller prize went to BarMade, a business that plans to sell a Keurig-like device for mixing alcoholic beverages. It won $3,500.
Meanwhile, the student competition pitted Veloce Corporation, which is developing a technology used in drug capsules, against Pocket Passer, a concept that combines football with tailgating games like corn hole. Veloce won $3,500 while Pocket Passer scored a $7,500 check.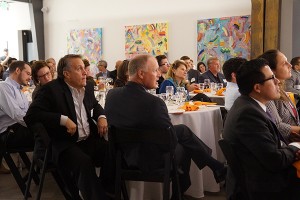 This is the fifteenth year of the annual business plan competition. This year, the competition was opened to students representing universities from five states including Colorado as well as local startups not affiliated with colleges.

Judges, including American Furniture Warehouse founder Jake Jabs, whittled down a pool of 40 applicants to a dozen teams that pitched judges in a series of competitions over the past two months, culminating in the finals on Thursday.

12542