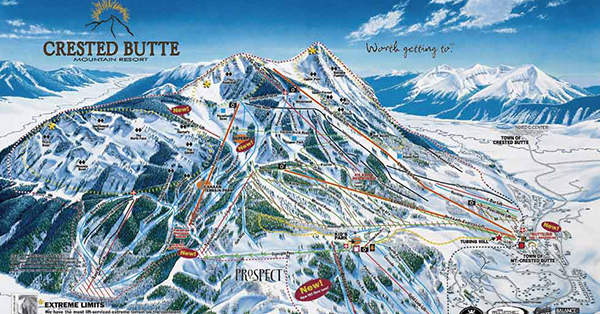 The Crested Butte ski mountain this week was dealt from one investment group to another.
The Colorado ski mountain was signed away to a New York hedge fund on Nov. 2 as part of an $830 million deal that includes a portfolio of 35 ski resorts, amusement parks and vacation properties.
Affiliates of Och-Ziff Real Estate agreed to purchase 14 ski properties including Crested Butte from their current owner, CNL Lifestyle Properties, a non-traded real estate investment trust that previously owned Elitch Gardens. 
The ski slope sale is part of a three-way deal among CNL, Och-Ziff and EPR Properties, according to filings with the SEC on Nov. 3.
Och-Ziff will purchase 15 ski resorts from CNL for $374 million, in part using a loan from EPR, a Maryland-based REIT. EPR has agreed to buy other CNL properties in a deal valued at a total of $830 million.
The sale is subject to the approval of CNL stockholders and other conditions, with a closing deadline of September 15, 2017.
Florida-based CNL announced in 2015 that it would sell Crested Butte and its 15 other ski areas. At the time, the Associated Press reported that CNL was the REIT with the largest ski resort portfolio in the country.
CNL had aimed to unload its ski resorts by the end of the year, but only succeeded in selling Bretton Woods ski area in New Hampshire by that time. It pushed back its goal for selling the remaining resorts to 2016.
The namesakes of Och-Ziff, the new owner of Crested Butte and other ski properties in CNL's portfolio, already have a firm foothold in Aspen. CEO Daniel Och owns a $16 million property in the ski town and three Ziff brothers that initially funded the hedge fund – Daniel, Dirk and Robert – owned a portfolio of Aspen properties worth $44 million as of 2014.
EPR Properties already owns 10 ski properties on the East Coast as of its most-recent annual filings with the SEC on Dec. 31.
REITs are a collection of properties used as an investment vehicle. CNL, which does not trade its shares publicly, pulls in lease revenue from ski resort operators like Crested Butte's Triple Peaks.
CNL purchased Crested Butte and two other ski areas on the east coast from Triple Peaks in 2008, leasing the properties back to their previous owners. Triple Peaks said the sale would help to finance the construction of improvements at its resorts, including the Red Lady Lodge at Crested Butte.
The deal is the second Colorado ski hill to be sold in 2016. Echo Mountain near Evergreen was sold earlier this year for around $4 million to an entity managed by a DU grad.