After more than 50 years in business, a Denver law firm is packing up and closing its doors.
Dufford & Brown ceased doing business on August 15, according to a note on the firm's website.
"For over 50 years, Dufford & Brown has been part our Colorado community, serving as not just your lawyers, but your confidants and advisers," the note reads. "However, all of our former attorneys will continue to offer the services you have relied upon at their new firms."
Seven Dufford & Brown attorneys, including firm president and director David Babiarz, have moved their practices to Polsinelli. Two more are now at Sherman & Howard.
"We will be communicating directly with all of our present and former clients on the administrative matters relating to the firm's closure and invite you to contact us with any questions you may have," the note on the Dufford & Brown website reads, directing visitors to a directory with attorney contact information at their new firms.
The firm was based at 1700 Broadway St. Property manager Hannay Realty Advisors said the firm occupies two suites, that they have not moved out and that negotiations regarding the lease are ongoing.
Dufford & Brown was founded in 1960. Its first namesake, Philip G. Dufford, was a former state court of appeals judge and a professor at the University of Denver College of Law. He died in 2000. The second named partner, Tom Brown, was dean of the University of Colorado Law School from 1979 to 1981.
In June, the firm listed 10 non-attorney employees and 18 attorneys on its website, including Brown, who retired as a director but remained at the firm as of counsel.
In July, Sherman & Howard announced that attorneys Mechelle Faulk and Elizabeth Ford joined its family law practice.
Earlier this month, Polsinelli said seven real estate and corporate attorneys that focus on the energy industry would join its Denver office from Dufford & Brown.
Besides those practice areas, Dufford & Brown listed specialties including public utilities, labor and employment, special districts, trust and estate and water law on its website.
Court dockets show in the past year, Dufford & Brown attorneys have represented the Denver Athletic Club in an employment discrimination lawsuit and Denver-based Synergy Resources Corporation and real estate suit.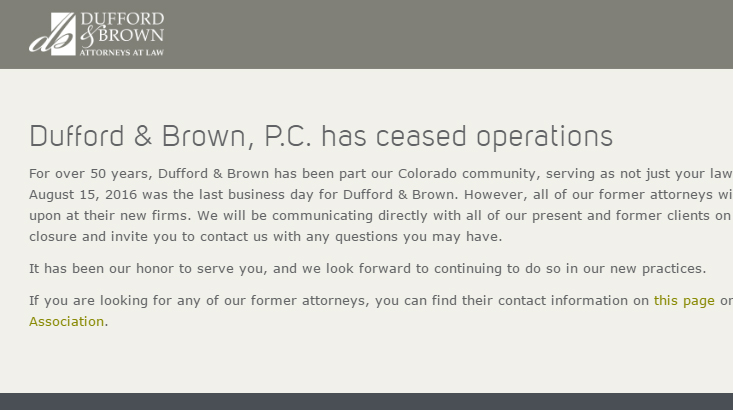 10874