An accounting firm is taking about 8,000 square feet worth of real estate off of its own books.
Eide Bailly will move into nearly 30,000 square feet of office space at One Belleview Station toward the end of the year, consolidating two offices the company currently keeps in Golden and Greenwood Village.
Brian Callahan, Eide Bailly's partner-in-charge for Colorado, said the deal will bring more than 130 employees under the same roof.
"Our Tech Center lease was coming due at the end of the year, and it didn't make sense to have two metro area locations anymore as we've grown to more than 65 people at each office," Callahan said. "It may have made sense when we had 20 or 25 people in each location."
Eide Bailly's is the first lease announced at One Belleview Station, a 318,000-square-foot building under construction at near Belleview Avenue and Quebec Street. The accounting firm will take the entire seventh floor of the 16-story building.
The building is scheduled for completion in December of this year, around the same time Eide Bailly plans to vacate its other two offices.
The accounting firm currently has about 22,000 square feet at 440 Indiana St. in Golden and another 16,000 square feet at 5299 DTC Blvd. in Greenwood Village, so the One Belleview Station lease shaves about 8,000 square feet off of the company's total footprint.
Callahan said he wanted to stay in the DTC as opposed to going downtown, noting it was less expensive to lease in the suburban office market and the location was easier for clients and employees to get in and out of.
He liked One Belleview Station in particular for its location near the light rail.
Eide Bailly is based in Fargo, North Dakota. The company now has about 185 employees in Colorado. Its other offices are in Grand Junction, Fort Collins and Boulder.
"The metro area growth has been fueled the last five or seven years by our specialty services," he said. "Denver is a hub for business valuation, state and local taxation and international tax services."
Cushman & Wakefield brokers Ryan Stout and Nate Bradley represented the landlord in the deal. Brendan Fisher and Charlie Lutz of Cresa Denver represented the Eide Baily.
One Belleview Station broke ground last summer. Prime West is developing the building, which will include about 320,000 square feet of office space when it's finished later this year.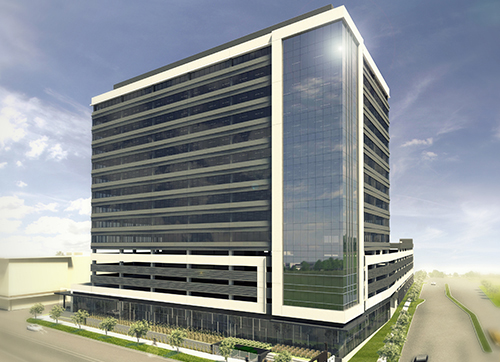 10862