Dave Hecker gave sign-spinning a whirl, but now he thinks it just leaves people dizzy.
"What I found was that people became fixated on the spinning itself and not so much on the message," said Hecker, 29.
Hecker sees potential billboards everywhere. His first outdoor marketing campaigns were ads he slapped on a motorcycle for a food delivery service he started in Albuquerque.
Now he's come up with an alternative to ads that whiz and whirl on the street: double-sided banners, 60 inches tall and 40 inches wide, mounted on a wagon that employees push like a shopping cart down a busy street.
Hecker and his company Chumba Media started rolling out the walking billboards on the 16th Street Mall in January. Each billboard costs $35-an-hour plus a $300 production fee to print the ad and pay for uniforms, coupons, fliers and other marketing material.
Hecker reckons that's a bargain compared to other outdoor marketing opportunities on the mall.
But it's hard to make an apples-to-apples comparison. The smaller advertisements on the street markers along the Mall, which are sold by StreetMediaGroup, cost about $4,000 to run 18 hours a day for a 28-day period, a sales rep said.
Hecker said Chumba Media, which is self-financed, booked its first $5,000 in sales. Among its 10 clients so far, Chumba has run campaigns for National Jewish Health's Walk with a Doc program as well as downtown food joints Illegal Burger and Komotodo Sushi Burrito.
The company has one other full-time employee besides Hecker, plus two walkers. Hecker said they've been pounding the pavement just about every other day for the past four months.
Besides competing on price, Hecker said he also wants to compete on quality. Employees wear uniforms branded with the logo of the company they're touting and they get training on how to field questions about their customer before the wheel hits the pavement.
"We make sure that our brand ambassadors know exactly what it is they're promoting," said Hecker.
And for customers that want to quantify ad impressions on the street as they would online, on TV or on the radio, each billboard rolls with a video camera affixed to the top.
"We can use that footage, send it to our clients and they can see how people are actually responding to the ad," said Hecker.
Hecker has had as many as three walking billboards rolling at the same time. He would like to have up to eight downtown, so that customers can place three displays in a different neighborhood.
And down the road, he's hoping to raise $25,000 to buy a flat digital panel, so that customers can post animated advertisements, add sound to their ads or track the billboard by GPS.
As for customers, Hecker said he's bought some Google ads and cold-called some local businesses. But he thinks nothing beats old-fashioned shoeleather.
"We have really just been doing self-promotion, such as running our own ads up and down the Mall," he said. "It absolutely works, too — when we're walking around, we have numerous, dozens of people talking to us. People will high five us."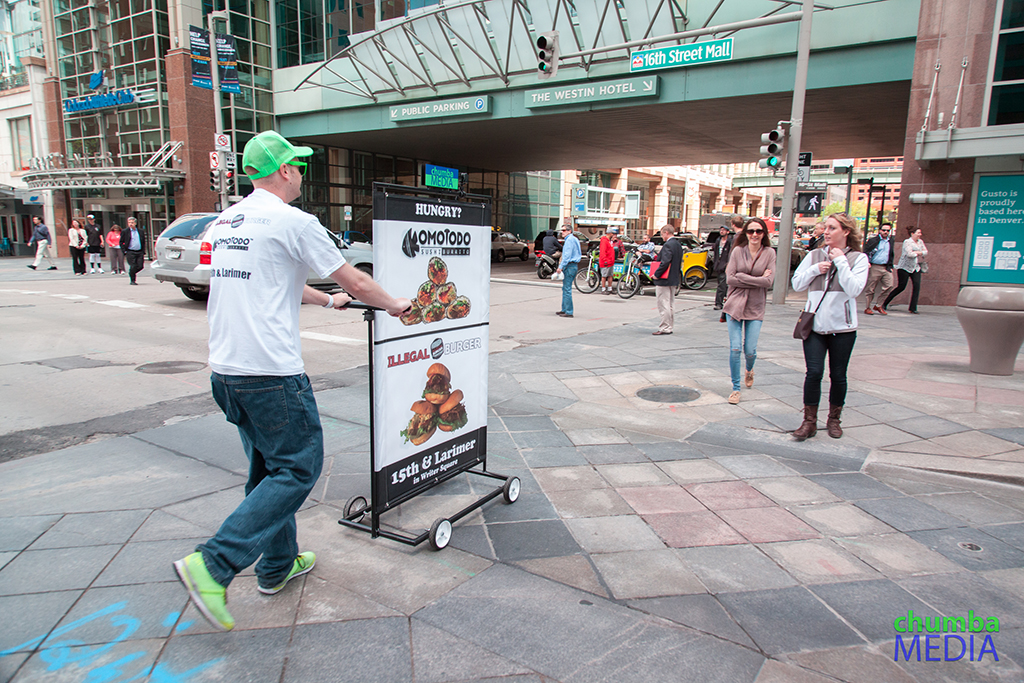 10396