After a decade and a half near Cherry Creek, a Denver architecture firm has a new name and new digs Uptown.
Ruggles Mabe Studio, previously Ruggles Mabe Terrell Architecture, has moved to a new penthouse office condo at 17th Avenue and Pennsylvania Street in Uptown. The move comes after about 14 years at the The Citadel building near Alameda Avenue and Steele Street.
"Our lease was up and we wanted to own our own place," said Principal Don Ruggles. "This area has a great energy, and we have a great view at a great building in a vibrant neighborhood."
Ruggles Mabe Studio is a 46-year-old architecture firm that specializes in single-family homes with some small retail, restaurant and office design work. The firm is rebranding after partner Ray Terrell retired last fall, Ruggles said.
Ruggles Mabe bought its 3,300-square-foot, fifth-floor office for $1.1 million in March, city records show. Developer Amy Harmon was the seller in the deal, and Ruggles said the space previously housed a gym.
It took another roughly $150,000 to turn the space into an architecture studio. Ruggles said they had to add three new walls and bring in new work stations for the company's 10 employees.
Ruggles Mabe moved into the office in May, about two months after the acquisition closed. The architecture firm designed its own space and Mesa Properties handled the buildout. MidFirst Bank financed the acquisition.
Ruggles Mabe looked around for a new office for a couple of years before buying the Uptown property, Ruggles said. They previously put in offers for space at the Bonfils Mansion in Capitol Hill and a five acre site on Parker Road in Arapahoe County.
Ruggles said the view from his new southward facing deck was one of the major selling points for the Uptown location, as he pointed out varying architectural styles at Denver landmarks like the Capitol Building and the Cathedral Basilica of the Immaculate Conception.
Fellow named partner Melissa Mabe-Sabanosh said the street life is also much busier in Uptown than at their previous home near Cherry Creek Drive South. She hopes that activity along 17th Avenue will translate to more imaginative design work at Ruggles Mabe.
"I think it cultivates some creativity," she said. "The neighborhood isn't as homogenous."
Ruggles Mabe might design about 20 homes in a year, Ruggles said. The firm's most recognizable projects around Denver are the Newman residence in Cherry Hills and home named Pike's View in Castle Pines, Ruggles said.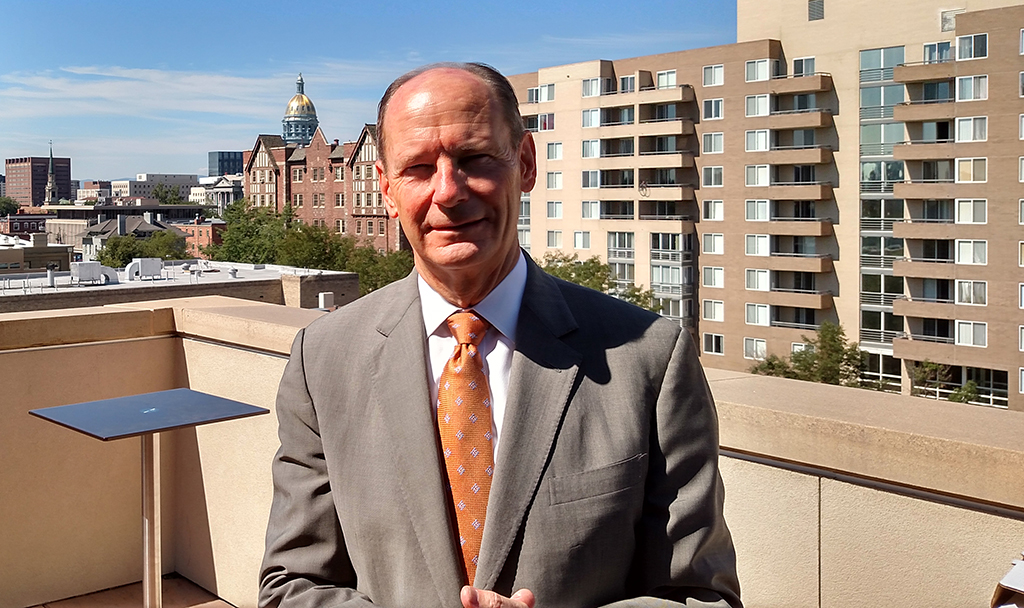 10389