Fast casual restaurateur Chris Hynes is planting the seed for the second outpost of his fast casual brand Superfruit Republic.
The concept, which sells acai bowls and smoothies, plans to open at the new SkyHouse Denver apartment building this fall.
It will be the brand's second store after Hynes opened a spot in Stapleton in April.
"We have a lot of Californians and a lot of people that travel through Denver," Hynes said. "They'll come out to Stapleton in an Uber and say, 'we're staying in a hotel downtown and say that you guys were selling acai bowls.'"
Superfruit Republic leased 1,700 square feet of retail space on the first floor of the SkyHouse, a 26-story apartment tower under construction at the top of downtown. The Superfruit storefront looks across Broadway to the Brown Palace Hotel.
Hynes said it will cost a couple hundred thousands of dollars to get the shop up and running.
Acai bowls anchor Superfruit Republic's health-centric menu. The bowls mix fruits from Brazil with liquids to create the consistency of frozen yogurt, Hynes said. Customers can then add toppings like fruit and granola.
Hynes first got turned onto the bowls while visiting Brazil. He learned he could get acai bowls in United States about a year and a half ago, and began working on a business plan to bring the Brazilian-inspired fare to Denver.
"Acai bowls are a phenomenon that will sweep the country," he said. "Every five miles you'll be able to find one, at some point in the near future. They'll become like ice cream shops."
Hynes said he was looking for a location downtown even before opening in Stapleton three months ago. He signed the lease on the SkyHouse space last month. SullivanHayes broker Mark Williford handled the site search.
Hynes liked SkyHouse because it's a new building. He also said it will cater to residents in the building as well as business people downtown during the day.
"There are so many apartments going up in that area, and so many businesses, and there are just not a lot of healthy options down there," Hynes said. "This provides another option for people downtown to eat something different, so you're not always getting a salad or a sandwich or a burrito or a burger."
Hynes anticipates that he'll move into his unfinished retail space this September. He hopes to open in November after a few months of buildout. Path21 Architecture is the store's architect and Foothills Commercial Builders will be the general contractor.
While Hynes has big plans for Superfruit Republic, he's tapping the brakes on new store openings for now.
"I'm kind of in a perfecting operations mode. Even though we've had great sales growth in the first store we're not quite where we want to be," Hynes said.
"A lot of places like ours that expand into franchises overextend themselves, and if you don't have the nuts and bolts down before expanding too quickly you can really put yourself in a bad spot down the road."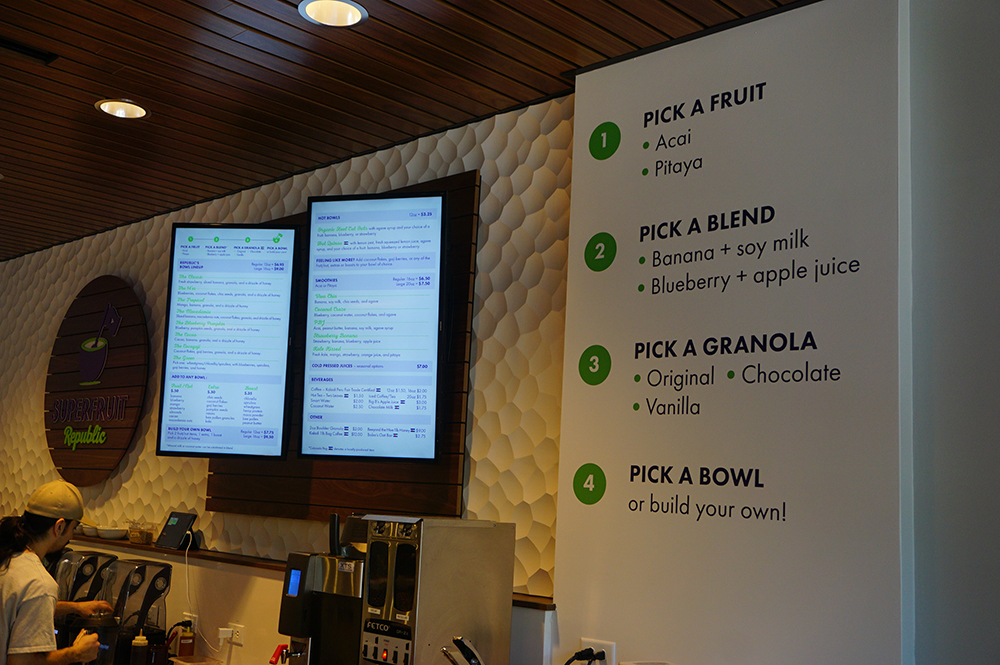 9920