With two leases in hand, a Platte River development is picking up steam.
Construction is rolling at STEAM on the Platte, a Sun Valley redevelopment highlighted by the renovation of a 65,000-square-foot warehouse. Co-owners Urban Ventures and White Construction hope to finish the $14 million first phase, including the revamped office building and landscape work, by spring 2017.
The joint venture bought the three-acre site in 2014, and Tim White, White Construction president, likes its location near transit and the river.
"The property is bookended by the light rail and the river," White said. "You usually might have one of those amenities, but you don't have both."
White and Urban Ventures announced the project last summer. Anchor tenant NIMBL already had signed on for 21,000 square feet of office space.
Since then, Susan Powers, Urban Ventures president, said an unnamed architecture firm has leased another 11,000. That leaves the 65,000-square-foot building slightly more than half leased. Rents on the office space hover between $24 and $26 per square foot.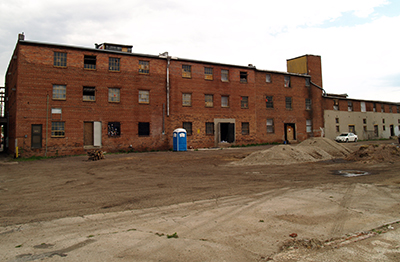 Powers and White will add landscaping from the back of their warehouse to the Platte River, as well as add utilities for future development.

After those exterior improvements are finished, Powers said they'll focus on a smaller, 6,000-square-foot building fronting lower Colfax. It will be redeveloped into restaurant space as part of the project's first phase.

Demolition has started and Powers said they may rent out the smaller building as an event space until they're ready to renovate it. One group already has signed on to rent out the property.

"We're going to move into the design process to make it into a restaurant," Powers said. "But until then, we're open to all sorts of events."

Future phases of development could add another three buildings to the Steam on Platte complex. White and Powers are starting to seek bids to demolish a strip of older buildings along 14th Avenue to make way for future development.

Without applying for rezoning, Powers said they eventually could build three more buildings totaling more than 200,000 square feet.

"You have to have a little vision (to renovate the existing warehouse), but a site like this just doesn't exist anywhere," Powers said. "You could work in the offices and come out to eat lunch looking over the river. It will almost be like another Confluence."

Plans are murky for those new construction pieces. Powers anticipates more office space, but said she's also thinking about apartments.

"At first, we thought it was too early to build residential in this area," she said. "But now I'm starting to wonder."

For more on the STEAM on the Platte project, read this BusinessDen story from 2015.

 

9081