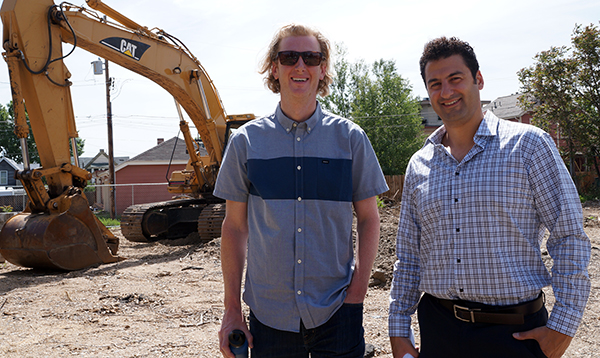 For those that like to sip where they sleep, LoHi is slated to get a mixed-use development with a distillery on its ground floor by summer 2017.
In August, Zakhem Real Estate Group plans to break ground on a $9 million project at the northeast corner of 36th Avenue and Tejon Street across from Lechuga's Italian Restaurant.
The three-story complex, which developer Mike Zakhem calls MiLo because of its location in the middle of Lower Highlands, will include 32 residential units as well as ground-floor retail space.
"This is a really hip, cool neighborhood and the infill lots are going really fast," Zakhem said. "The size of our building doesn't allow for a pool. Our amenity is our neighborhood."
But building plans call for something else refreshing: a distillery and taproom tucked beneath the studios, one- and two-bedroom units.
Zakhem Real Estate Group bought the 14,000-square-foot parcel for $1.6 million in February under the name 3618 Tejon LLC, according to Denver property records.
Zakem said the company secured a loan from Kirkpatrick Bank to fund the project. Matt Davis of Davis Urban will be the development's architect and I-Kota will be its general contractor.
Previously, Zakhem developed townhomes in Berkeley on Tennyson Street and in Jefferson Park near Mile High Stadium as well as a 32-unit apartment building called Washington Park Station at 675 E. Louisiana Ave.
For their project at 36th and Tejon Street, Mike Zakhem and his brother, John Zakhem, also have a hand in starting the distillery that will be the first of two tenants splitting MiLo's 5,000 square feet of retail space.
The Zakhem brothers were on a heli-skiing trip with friends Scott Yeates and Scott Burg when bad weather kept them off the slopes. So instead, they sampled local spirits at a nearby.
Add a splash of good timing – the Zakhems already had acquired the land in the Highlands by the time Yeates and Burg suggested starting a still – and the four became partners in a business incorporated under the name LoHi Distilling.
"We know a year out that we have a space," Yeates said. "This is just something that's not on the market, something kind of like the brewery model, but with distilling."
For now, their nearest distiller neighbors are miles away: Mile High Spirits at 2201 Lawrence St. and Rising Sun Distillery at 1330 Zuni St.
Yeates said the partners have hired a distiller to craft spirits, but seek a manager and an architect to design the space.
Once they have sketches for the still and tasting room in hand, the four can start building code and licensing processes. Yeates hopes to use a two-tank system and have vodka, gin, rum and absinthe ready to pour when the place opens, perhaps with bourbon (which has to age) down the line.
As for the other 2,500 square feet, Mike Zakhem is looking for a complementary taste.
"We want something that will help the distillery to thrive and vice versa," perhaps a restaurant, Zakhem said.