An escalating development dispute in Littleton has at least two councilmen trying to void a building permit for work that's already underway.
The Littleton City Council is considering revoking the building permit the city granted Zocalo Community Development to build The Grove apartment community more than a month after construction on the project has started.
The issue came up at a council meeting last month, when Councilman Doug Clark moved to revoke The Grove's site-development plan and building permit. Councilman Jerry Valdes seconded the motion. The motion was tabled at the request of City Attorney Kristin Schledorn, who told the council, "There is a lot of liability with this position, and I don't believe council is authorized to do this."
Zocalo principal David Zucker said he'd sue Littleton for $30 million if the permit is revoked. "This is nearly unprecedented in Colorado," he said. "Council should be concerned about the antibusiness message this sends for those considering moving to Littleton."
The Grove, at 2100 W. Littleton Blvd., is a 160-unit luxury apartment complex primarily for those 55 and older that includes a 337-space parking structure and 11,000 square feet of retail space.
The council, expected to take up the measure tonight, appears to be responding to a small group of residents that opposes growth and wants the project stopped. But the city staff found the project to be in compliance with Littleton's city code and zoning regulations.
"The project was subject to a rigorous development review by numerous staff, including engineering, zoning, fire, the building division and others," Kelli Narde, director of communications for the city, wrote for Littleton's website. "With consideration of private property rights and within the parameters of the code, it was found to be a lawful use that meets all requirements of numerous documents and regulations."
Neighborhood objections also have resulted in a lawsuit that will determine whether a neighboring property owner has a right to appeal approval of The Grove's Site Development Plan to the Board of Adjustment. A trial is set for Sept. 1.
However, the city's code says that if a site-development plan is under the purview of the city's staff, the only entity that has a right to appeal staff's decision is the developer, if the plan is rejected.
Councilwoman Debbie Brinkman said the problem is the city's code, which needs to be updated.
"This isn't about whether we like that project or not," Brinkman said. "That's not what the discussion should be. The discussion is, did staff follow the law? Did they follow our code? Did they follow what is on the books as acceptable development? The answer is yes, yes and yes."
Brinkman and Mayor Bruce Beckman were the only council members to respond to requests for interviews, though Beckman declined to comment, saying he is uncomfortable expressing any opinion outside of tonight's council meeting.
Zucker bought the property after Alliance Residential was unable to secure a zoning change to allow for construction of a larger, proposed 225-unit apartment building on the site.
Zocalo never sought a zoning change. Instead, the developer studied Littleton's existing code and concluded that as long as the project is not more than 50 percent residential and that a parking structure that's open to the public is considered a commercial use, the property could be developed with apartments.
"We researched the codes and found the way to make the project compliant," Zucker said. "Our analysis was approved by the former planning director because it was correct. By charter, staff is allowed to do that."
Zucker confirmed his findings with others as well, ultimately receiving approval of the project's site-development plan from city staff last fall. He was issued a building permit and began construction on May 1.
Developer Mark Pizzoferrato, who has built a number of projects smaller than The Grove, described the council's consideration of revoking Zocalo's permit as "alarming."
"For a handful of people who don't want to see any change to have influence over the city is unfortunate," Pizzoferrato said. "I've been down there for three years and I ask people what their feelings are on new development. I'd say 90 percent are in favor of it and thank us for what we've done. If this kind of thing is going to happen, people aren't going to want to develop there anymore."
Margaret Jackson is a Denver-based writer.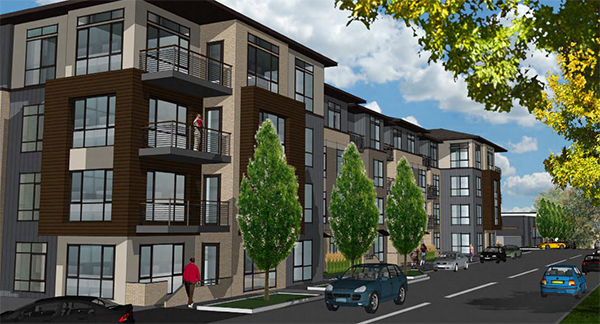 8988