Sweet Action Ice Cream in Baker has started churning at a new ice cream factory, hoping to push more pints onto store shelves just in time for the busy season.
Since Sweet Action co-owners Chia Basinger, 39, and Sam Kopicko, 36, started selling ice cream out of a 2,200-square-foot storefront at Broadway and 1st Avenue in 2007, the shop has made 100 gallons a day.
The couple loves seeing lines snake along Broadway, but starting another shop from scratch gave them brain freeze.
"We didn't know if we wanted to grow," Basinger said. "We feel like our retail shop is a cornerstone of that Baker/Broadway neighborhood. We wouldn't be able to replicate that."
Instead, they want to grab a spoonful of the wholesale action.
Last May, the couple bought a 4,600-square-foot industrial space off of Santa Fe Drive near the Overland Golf Course for $540,000. Nick Schill at Pinnacle Real Estate Advisors marketed the property.
"This way, we can get our ice cream into more ice cream shops in more neighborhoods," Basinger said. "And this gives us better quality control of our product and more reach."
Denverites have been able to buy Sweet Action cartons at local stores such as Marczyk Fine Foods or sample scoops on menus both fancy (the Four Seasons) and fanciful (the R U Cereal Food Truck) for years, but Bassinger said wholesaling made up just 20 percent of sales last year.
That's already starting to grow. Just as it was starting to make ice cream at the new factory in April, Sweet Action got its first order from Whole Foods and now sells to about a dozen stores in Colorado, Bassinger said. It ships in locations from Fort Collins to Castle Rock.
With two full-time workers, Bassinger said the new factory can make 100 to 120 gallons a day, with room to grow.
And Sweet Action isn't the only Denver creamery nibbling at more wholesale. In October, LoHi's Little Man Ice Cream revealed plans for a new production facility and tasting room on West Colfax Avenue.
Sweet Action hired the architect that designed its ice cream shop, Jeff Stine of JLStine Design, to reconfigure its new space. Spectrum General Contractors handled the renovation.
But there's no ice cream without, well, ice. Basinger is especially proud of the space's two walk-in freezers and one walk-in cooler, both installed by Action Appliance in Aurora.
Sweet Action received two SBA loans from Chase for a total of about $1 million, Basinger said. It spent $500,000 on equipment and construction.
The company has 25 employees, including a store manager for the Baker shop. That leaves the couple time for the sweetest thing in their lives: their first child, born this winter.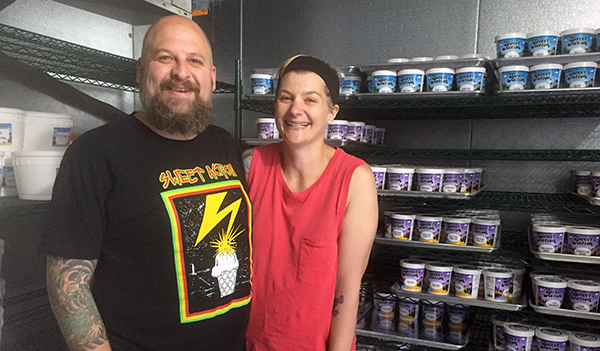 8978