After more than 20 years in Colorado, the Qdoba Mexican restaurant chain is rolling up its corporate headquarters in Lakewood's Belmar development and joining its parent company in San Diego.
Qdoba, which is owned by San Diego-based Jack in the Box, will close its Lakewood office around Jan. 1, Qdoba Brand President Keith Guilbault said in an email to BusinessDen.
"Last week at a meeting with our investors in Kansas City, we announced a number of initiatives intended to drive the continued growth and success of our Qdoba and Jack in the Box brands as well as our plans to reduce overhead costs," the email read in part. "As part of those plans, the company will consolidate its functions in San Diego and close Qdoba's support center in Lakewood around January 1."
The Belmar mall is owned by Chicago-based Starwood Retail Properties.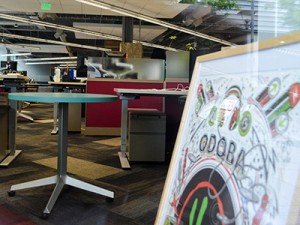 Qdoba has about 95 employees in its Lakewood office, the company said, and has offered some employees the option to relocate to San Diego.
Employees that decline or whose jobs are cut will receive severance packages proportional to years of employment and position, the company said, and most positions will not be cut until closer to January.
Founded in Denver in 1995, burger joint Jack in the Box purchased Qdoba in 2003 for $45 million from private equity firms and other investors.
Since then, Qdoba has grown to seven times that size, from 85 restaurants in 16 states in 2003 to 600 restaurants in 47 states this year.
In 2014, Qdoba moved its headquarters from Wheat Ridge to 7244 W. Bonfils Lane in Lakewood, occupying the first floor of an apartment building called the Residences at Belmar Plaza.  The Gap previously leased that spot, according to a filing with the SEC.
Qdoba has nearly 80 locations in Colorado, including one that opens today in Lakewood at 12027 W. Alameda Parkway.
"We're grateful to have called Colorado home for more than 20 years and are grateful to our employees here who have helped drive the success of this great brand," Guibault said in the statement.
Guibault took over as head of Qdoba in May from Tim Casey, whose resignation is effective today.
Besides its 150,000-square-foot executive office in San Diego, Jack in the Box owns a 70,000-square-foot facility with four acres of undeveloped land beside it in San Diego, according to its most recent annual filing with the SEC.
BusinessDen reporter Stephanie Mason contributed to this story.