A venture capital-backed startup will triple its LoDo office space when a new building goes up next door.
GoSpotCheck, an inventory and sales tracking firm, will move into a new 18,000-square-foot building at 1510 Market St. next spring, according to the property's developers. The project is an addition to the Rocky Mountain Seed Co. building, and developer Jerry Glick heads it up.
"We really thought that was an important corner in LoDo, and the parking lot needed to be developed," said Fred Glick, Jerry's son, who spoke to BusinessDen on the development team's behalf. "It really is the entrance to LoDo off of Interstate 25 and Auraria."
GoSpotCheck, which has raised around $10 million from investors, has signed an eight-year lease for the entire three-story building, which will replace a parking lot stretching from the edge of the Seed Co. building at 1520 Market St. to the corner of 15th and Market streets. Plans call for a full three stories with a fourth-floor mezzanine.
Seed Acquisitions, LLC, an ownership group listing Glick as manager, owns both the Seed Co. building at 1520 Market St. and the lot next door on which the group plans to build. GoSpotCheck leases 6,000 square feet on the second floor of 1520 Market St.
Fred Glick said the company has been working on a development plan for a couple of years. Initially the idea was to build a multitenant building with retail and restaurants on the first floor, and office space above, Glick said.
He added the development team talked to about 20 prospective restaurant tenants, as well as office tenants.
"We thought it would be a great place for a restaurant, but unfortunately we just couldn't find a deal that made sense," he said. "If it was an existing building, that would have been one thing, but this is essentially a build to suit."
Meanwhile, Glick said, GoSpotCheck has had difficulty locating more space. He said some landlords see added risk in bringing in a newer technology company.
But Glick said the Seed Building owners were familiar with GoSpotCheck and willing to bring it into the new building. GoSpotCheck will retain its current space on the second floor of the existing Seed Co. building, Glick said.
"There is an issue in this town with technology tenants being a desirable tenant for some landlords," Glick said. "There are some real, but also some perceptual issues that are challenging."
The project will stand about as tall as the three-story Rocky Mountain Seed Co. building with a rooftop deck that gives the appearance of a fourth floor at the corner of Market and 15th streets. Tryba Architects designed the addition and Hyder Construction is working as the general contractor.
Glick said they already have a head start on construction. Seed Acquisitions previously built an underground parking lot for the Seed Building at the site, so it's ready to go vertical without having to break ground.
He added that the curtain walls they plan to use can be assembled offsite and then pieced together at the LoDo site.
GoSpotCheck launched in 2011. The company designs software that allows vendors to track data such as inventory and sales, creates visual representations of the data, and distributes it to mobile phones, laptops, tablets and other devices.
Before moving into 1520 Market St., the company worked out of the Galvanize co-working space in the Golden Triangle. Last year, GoSpotCheck disclosed a $4.5 million capital raise. That round added to $9.5 million the company had raised since its inception, according to Crunchbase, a website that monitors startups.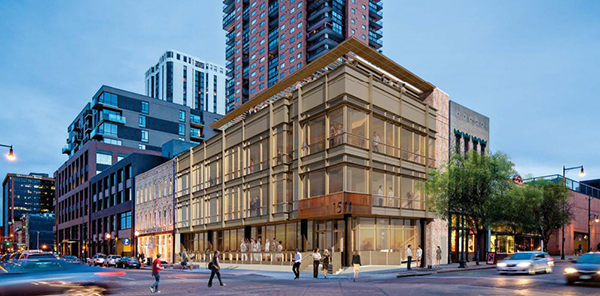 8966