The Denver Broncos are moving to cut Sports Authority from the roster.
In a court filing on Friday, lawyers for the Broncos seek court permission to tear up their sponsorship agreement with the troubled retailer, saying Sports Authority already has stiffed them for $2.1 million since February.
But because of bankruptcy protections, the Broncos cannot remove Sports Authority's backlit signs and billboards from Mile High nor Sports Authority banner ads from DenverBroncos.com.
Patrick Smyth, vice president of public relations for the Denver Broncos, did not respond to requests for comment Tuesday.
The $55 million sponsorship deal the Broncos signed with Sports Authority in 2011 is replete with other perks beyond stadium signage: A corporate box near the 50-yard-line, 16 pregame field passes a game and four Super Bowl tickets every year.
That deal was supposed to run through 2035, with Sports Authority paying the Broncos a total of $55.2 million in quarterly installments.
According to court filings on Friday, the retailer has now skipped the first two payments of $4.2 million due this year.
A hearing on the motion is scheduled for June 28, according to paperwork submitted by Denver-based law firm Weinman & Associates and Delaware-based Sullivan Hazaltine Allinson .
Earlier this month, lawyers for the Broncos maneuvered to block Sports Authority from selling its sponsorship rights without the Broncos' permission.
The entity that owns Mile High Stadium, the Metropolitan Football Stadium District, has argued separately that Sports Authority cannot re-assign or sell stadium naming rights without its consent.
Sports Authority billboards also adorn the inside of Coors Stadium, which is owned by the Denver Metropolitan Major League Baseball Stadium District.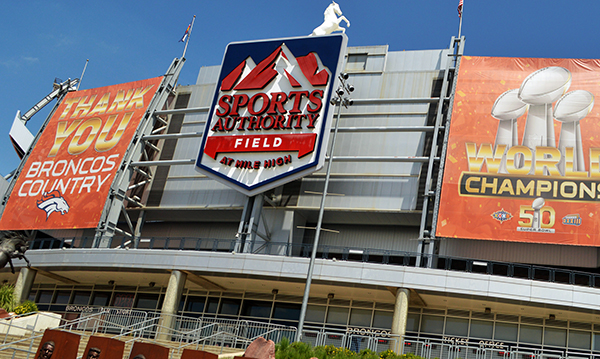 8929