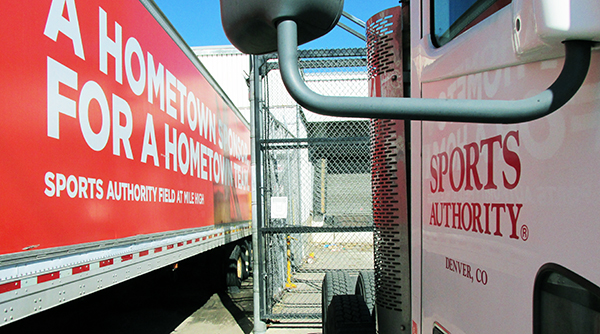 The Denver Broncos are accusing beleaguered retailer Sports Authority of the legal equivalent of a false start.
Late on Friday, lawyers representing the Broncos filed paperwork seeking to block Sports Authority from auctioning off the right to sponsor the football club unless it has the Broncos' written permission.
As part of a $55 million sponsorship deal signed in 2011, Sports Authority gets a corporate box near the 50-yard-line, 16 pregame field passes, parking passes for home games, rent-free use of the stadium for events and four Super Bowl tickets every year.
Rival sports retailers Dick's Sporting Goods and Modell's are among the bidders vying for Sports Authority's stores and other assets, The Wall Street Journal reports.
But the Broncos say Sports Authority "should not be able to assume or assign" sponsorship rights without the Broncos' consent – especially since the Broncos don't know who might purchase those rights.
The Broncos' objection includes a 2011 contract with Sports Authority, in which the retailer agreed to pay the Broncos $55.2 million from 2011 through 2035 in quarterly installments. It still owes about $36 million, with $4.2 million due this year alone.
Sports Authority's contract includes backlit signs, press conference backdrops printed with its logo, banner ads on DenverBroncos.com and three community service events with Broncos players every season.
The Metropolitan Football Stadium District (MFSD), which owns Mile High Stadium and leases it to the Broncos, has a separate stadium naming rights agreement with Sports Authority through 2021. The Denver Post reported in 2011 that the retailer took over naming rights for about $6 million a year, which the MFSD splits with the Broncos.
Like the Broncos, the MFSD also has argued that Sports Authority cannot re-assign or sell its stadium naming rights without MFSD's permission.
Coors Stadium, which is owned by the Denver Metropolitan Major League Baseball Stadium District, also has Sports Authority billboards and other signage inside the stadium.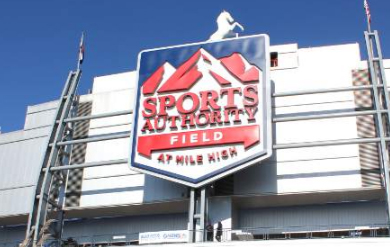 8782