A Seattle-based outdoor retailer is trekking across the Rockies to open an outpost in Denver.
Outdoor e-commerce site Evo acquired Denver ski shop Edgeworks and cycling store Bicycle Doctor, which are together at 860 Broadway. It's Evo's first push into Colorado as it establishes brick-and-mortar outposts to grow in-person and online sales while offering gear maintenance for online buyers.
"We've always believed the stores are incredibly important to delivering a customer experience," said Bryce Phillips, CEO of Evo. "There are certain things that you can do online, but there's a fundamental difference between the two channels."
The company will take over both shops. Matt Hupperts, who owned both Edgeworks and Bicycle Doctor, has been servicing and selling bikes and skis for more than 20 years.
Phillips launched Evo from his home in 2001. But before there was Evo, there was eBay, and Phillips said he's sold gear online since before Evo's official launch. The company opened its first store in Seattle in 2005 and added a Portland outpost in 2014. Denver will be the third brick-and-mortar spot.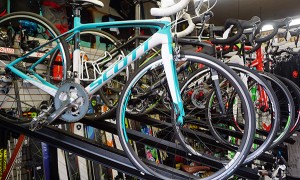 Phillips said his ski-boots-on-the-ground strategy is partly aimed at giving outdoor enthusiasts a hangout, as well as somewhere to tune and service the gear he ships from his website.

Evo also hosts art shows, music acts and nonprofit fundraisers in Portland and Seattle, Phillips said. On the business side, he's found that online sales in those two markets have jumped since he put the Evo brand on a storefront.

He's hoping the same thing will happen in Denver.

"We've had a really strong, growing business in Denver and Colorado over the last three years," he said. "But we'll be watching the web business very closely once there's an acknowledgement of us being in town."

Phillips said this is the first time he's jumped into a market with an acquisition, though the company did buy a small bike shop in its hometown of Seattle.

Phillips and Hupperts met about a year ago while Phillips was visiting Denver. They chatted about a deal and reconvened at this year's SIA outdoor expo in January.

"That's when it kind of re-sparked, and from that point on we drove it over the finish from there," he said.

Phillips said Hupperts, who was given a package of incentives for driving sales, will remain.

Phillips also bought the 860 Broadway building in a partnership with Denver developers Ari Stutz and Ken Wolf.

That deal closed last week for $1.665 million. Todd Snyder of Shames Makovsky brokered the deal on the seller's behalf.

Evo will sign a short-term lease on the building to establish a Denver footing, Phillips said, and will do renovations that will give EVO more space.

"What we're doing for absolutely sure is we're expanding within that space," he said. "It's a 9,500-square-foot building and they're not using all of that right now."

Evo will need a lot more inventory to fill that space. Phillips said the store will add skateboarding gear and keep stock for each of the action and outdoor sports Evo deals in online.

But some sections will be bigger than others.

"There won't be a massive surf section," Phillips said. "But we'll represent it because it's something that we do."

Several Broadway buildings formerly were car dealerships. The 860 Broadway building thus has a car ramp that reaches the roof.

"We're likely going to turn that roof back into parking," Stutz said. "That will be a fun project. It hasn't been used for parking in a long time."

8912