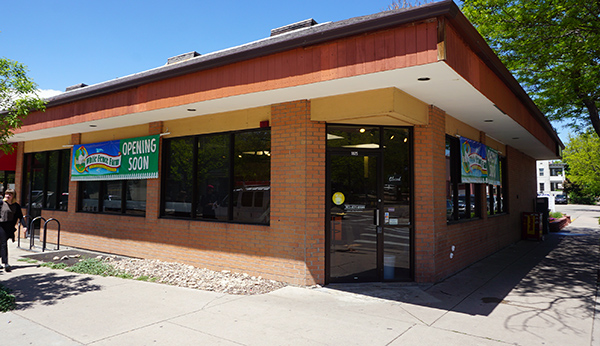 Schmear is out and gravy is in at a former Capitol Hill bagel joint.
White Fence Farm is heading to Cap Hill as the comfort-food brand rolls out new Denver locations. The plan, according to co-owner Tom Piercy, is to sell chicken and fixings to folks who can't make it out to White Fence Farm's restaurant and entertainment venue in Lakewood.
"People say, 'I love White Fence Farm, but I haven't been there in 10 years,' and it's been a really common complaint," Piercy said. "But if you're downtown, there's really no easy way to get there."
White Fence Farm's flagship location sits on eight acres off of Jewell Avenue west of Sheridan Boulevard. That spot – while not a farm in the strict, livestock and crop-growing sense – has a 700-person dining room plus a barn with a candy shop and bar, live music and a petting zoo.
But now White Fence Farm wants to take more of the country to the city.
The company leased 1,500 square feet at the corner of 9th Avenue and Corona Street, a former Einstein Bros. Bagels site, and plans to open a takeout location to sell its chicken, potatoes, cole slaw and corn fritters to Denver urbanites.
White Fence Farm has pecked around Denver with locations inside the Pepsi Center and in Green Valley Ranch, but the Cap Hill location will be its first brick-and-mortar shop in the city.
"We felt that this was a 'must' opportunity that we needed to seize upon," Piercy said. "Capitol Hill and this central part of Denver has been home to us. And this was a chance to open a takeout location in the central part of the city."
The company also is adding a location at 88th Avenue and Wadsworth Boulevard in Arvada, and another with a chicken kiosk on the 16th Street Mall. Those spots, as well as the Cap Hill store, should open in June, Piercy said.
White Fence Farm also has signed a deal to open a chicken trailer at Elitch Gardens in May, Piercy said. All told, the company will have six takeout locations, concession kiosks or trailers around Denver plus the home base in Lakewood.
Customers can expect the standard comfort-food staples from White Fence Farm. The chicken-centric menu includes sides such as mac and cheese, beans, cottage cheese and mashed potatoes.
The Cap Hill location is mainly a takeout spot, Piercy said, but there will be limited seating for visitors who want to linger.
"We will have high-countertop seating and we would really like people to be encouraged to come on in, bring their laptops, set up and work from the farm if they need to," Piercy said.
MPB Contractors is handling renovations at the 9th and Corona spot.
Piercy and co-owner Craig Caldwell bought the White Fence Farm franchise in 2014 from its Denver founder, Charlie Wilson. The company was launched in Romeoville, Ill., a Chicago suburb near Piercy's hometown of Joliet, Ill. The Chicago White Fence is separate from the Denver company.
Piercy said he and his family frequented the Romeoville store, so he and Caldwell were quick to buy the company when its Denver descendent went up for sale two years ago.
Piercy looked for new sites to place White Fence Farm locations. His goal was to add two takeout locations in the first year and to be operating eight by December 2016.
"I remember I said kind of jokingly, off the cuff at a meeting one time, that we're going to bring the chicken to the people," Piercy said.
He said more growth is coming.
"Rest assured that we will be making more announcements before the end of the year," he said.