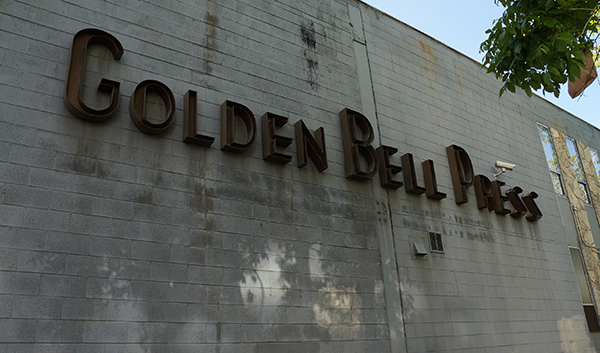 After a dozen years weathering 70-plus percent taxes in Italy, a pair of Roman restaurateurs face a less-daunting task: Turning an 80-year-old printing press in Curtis Park into an Italian restaurant and brewery.
For now, Alex Liberati, 33, and Francesco Iacovino, 32, are seeking investors to transform the cinder block walls and concrete floors at 24th and Champa streets into the first Denver brewery that uses only grapes, rather than grains such as wheat and barley, to make beer.
"No one's really said, 'I'm concentrating only on Italian grape ales,'" said Liberati, noting that a few Colorado brewers have added grape ales to their lineups.
He and Iacovino landed on their space –36,000 square feet, counting from ground floor to roof – after a year-long odyssey that took them from Singapore to New York City.
But Liberati chose Denver because he has imported Colorado beers to his bars in Rome for years. And he fondly remembers promoting his Rome-based brewery, Revelation Cat, at the Great American Beer Festival.
Liberati expects to open the Denver brewery with a nine-barrel system this time next year. But business must come before beer.
"In our world, there are a lot of people that are blinded by passion," Liberati said of fellow restaurateurs and brewers. "They don't mind the numbers on the Excel spreadsheet."
Liberati said he assembled a thick business plan, including a monthly budget he uses to pitch lenders and vendors, to get a five-year U.S. visa,.
Early sketches of the Denver brewery (Liberati and Iacovino now are choosing among architects and contractors) lay out plans turning the former home of Golden Bell Press into restaurant and office space.
They're starting with the brewery's flooring. They plans to import marble tiles from Italy, arranging them in a hopscotch pattern across the restaurant, plus wood repurposed from wine barrels in between.
They also plan to install a line of garage doors facing Champa Street, opening the indoor bar to the patio; Liberati will boast 24,000 square feet outdoors and wants to build a lawn with tables and a parking lot.
The restaurant will seat about 200 people inside and 100 outside. And Liberati reckons it will need at least 70 employees to operate.
Moving upstairs, they plan to turn one corner into a cocktail bar. He and Iacovino also have sketched out space for the brewery's own office, but hope to sublease the rest as office space to other businesses.
Liberati opened his first restaurant in his early 20s in his hometown of Rome. He's worked with Iacovino since 2011, organizing a 420-tap beer festival in Italy, opening bars and restaurants, and making and distributing beer.
Now, Liberati has followed the lead of big names such as Fiat that have left Italy's stagnant economy. But he's not leaving behind Italian cuisine.
"We Italians tend to speak about food and drink while we are at the table eating it," Liberati said.
Besides their own beers, Liberati plans to serve Italian cocktail recipes concocted in Rome, gelato adapted from a popular Rome gelateria, Italian wines and fried, mozzarella-filled rice balls called supplì.
Marble flooring aside, Liberati said he wants the brewery to feel casual and the menu to be affordable.
"For $15 to $20, you will eat and be full," he said.