A bike retailer is rolling out of Lakewood this weekend.
Campus Cycles is closing its Lakewood store at 7310 W. Colfax Ave. The company, which also has a shop on Washington Street near the University of Denver, is in the midst of a liquidation sale. Shop employees said it would close Saturday.
The Lakewood location opened in spring 2012, according to the store's Facebook page. The Campus Cycles website is advertising its closing sale with a banner reading, "Lakewood Lost Its Lease."
The Lakewood building sits on about 0.45 acres just east of Wadsworth Boulevard on Colfax. The two-story building is listed for sale or lease, according to a recently updated Loopnet ad, and features about 6,000 square feet of retail space and another 3,645 square feet of office space.
Campus Cycles is riding on at its flagship store at Evans Avenue and Washington Street, where it offers both retail sales and bike repairs. Company owner Mark Velat did not return phone messages seeking comment on his plans.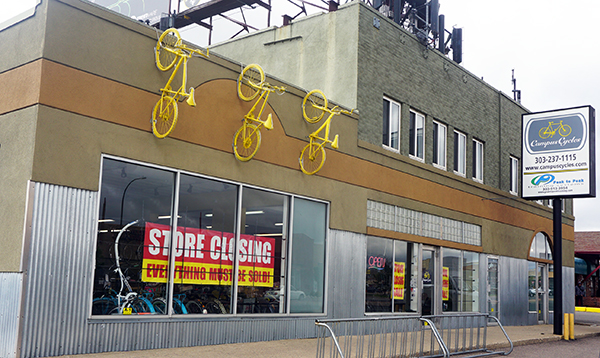 8577