Two childhood friends have chosen a shuttered LoHi auto shop garage for their startup brewery.
Willy Truettner, 27, and T.J. Slattery, 28, who met in middle school science class 16 years ago, plan to brew beer and teach home-brewing workshops in the 3,500-square-foot spot adjoining Teatulia Tea Bar at 29th and Zuni.
They signed a lease the first week of March and said they're on track to open by November.
"We thought, if we're in LoHi, we've got a much higher population," Slattery said. "We can get a bigger (brewing) system, we can make a lot more beer and it will pay the rent that LoHi charges."
LoHi hits the 21-to-35 age demographic sweet spot the brewery hopes to attract, Slattery said, a group that he said shares the brewery co-founders' love of Colorado weather and outdoor recreation.
"People like that it's sunny here 300 days a year, they like going hiking and biking and running and kayaking," he said. "That's why our target market revolves around that movement."
In that theme, William Wood Architecture is designing the taproom to evoke wilderness: Early plans include a ceiling resembling a forest canopy and bar tops recycled from the cross sections of trees.
And to take advantage of those 300 days of sunshine, the brewery can roll up four pairs of glass garage doors facing one another across the bay-turned-bar. They plan to build patios on both sides.
They also have another 1,000 square feet of storage in the basement – as well as over one-half mile separating 2900 Zuni from the nearest breweries, Prost Brewing Co. and Denver Beer Co.
"We're not too close to our brewery brethren," Slattery said.
Forrest Bassett and Zach Cytryn of Broad Street Realty represented the brewery in its lease deal. The former tenant, Boulder-based Green Garage, closed its Highlands shop in May.
As for beers, Truettner said he wants the shop's staples – German-, Belgian- and American-style brews –not to have such high ABVs or strong flavors that guests wear out their palates after one pint.
"I want my beers drinkable," he said. "We're going to make an IPA, but instead of making it overwhelmingly bitter, we're going to emphasize the juicy, fruity qualities of hops."
The pair also hopes to teach people to brew beer with one-off workshops and weekly classes. Down the line, they want to start a membership program for customers that can't fit a 10-gallon home-brew kit in their apartments to come use brewery equipment instead.
Long before they dreamed of building a brewery, Truettner recalls making "a pretty awesome toothpick bridge" with Slattery at Cherry Creek's West Middle School in sixth-grade science class.
Truettner later took up homebrewing in college, then completed a six-month brewing course at the Siebel Institute in Chicago. He's since worked at breweries in Michigan and Colorado.
Slattery, meanwhile, started a pedicab company in Vail, worked for Pinnacle Real Estate Advisors in Denver and sold medical supplies in London. He's now completing an MBA program at the University of Denver.
A filing with the SEC on March 21 shows the brewery has raised $400,000 from seven investors to launch.
But first, the brewery needs to come up with a name. It's incorporated as Populus Brewing Co., LLC, but Slattery and Truettner are choosing a new name.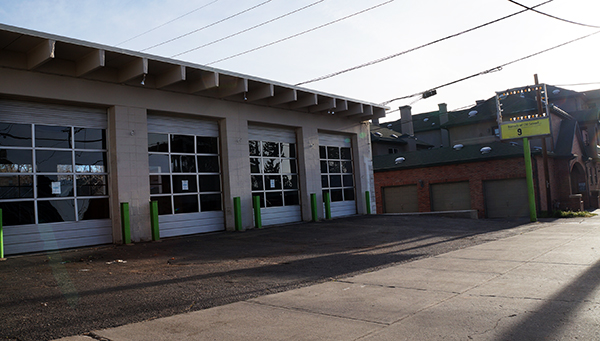 8361