John Ewing Co. (JEC), a Colorado-based horse supplement company, is asking the U.S. District Court of Colorado to force Arizona's 707 Ranch LLC to hold its horses with similarly named products.
In JEC's complaint, which the company filed through its attorney, Michael Dulin of the Denver office of Polsinelli, 707 Ranch is piggybacking off of the branding of JEC's "FORMULA707" product line.
Dulin and JEC did not respond to requests for comment.
JEC has owned the line of products, which includes nutritional supplements, vitamins and shampoo for horses, since 1958, according to the complaint. The company holds four trademarks for FORMULA707-branded products, the complaint said.
JEC alleges it's received calls from confused customers since last year regarding the similarly named products. JEC said in its complaint that it sent letters to 707 Ranch requesting the company change its branding, to no avail.
But 707 Ranch, which makes horse "pill carriers" to help ranchers feed their stock pills under the "707 Ranch" and "Ranch707" brands, is saying "nay."
Company owner Nancy Pohlman said that 707 Ranch has sent a letter to JEC's attorneys that will prove the case to be moot. She declined to comment on the letter's contents or to answer any other questions from BusinessDen.
The company is named after its address at 707 Quarterhorse Lane in Camp Verde, Arizona, according to its website, and any association with another "company using '707' within their [sic] product name … is purely just a coincidence."
Disclaimers on 707 Ranch's website state that the company "is not affiliated with John Ewing Company and the Formula 707 line of products" and provides a link to a website where customers can buy JEC's products.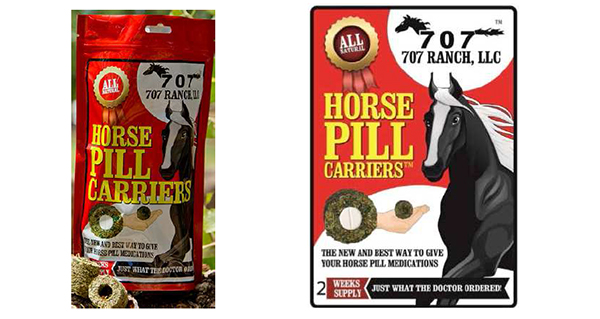 8190