The dogs of Wash Park now have a spa worthy of their pedigree.
Carolina Schultz opened the Wash Bark dog spa and day care last month at 1058 S. Gaylord St. to serve the neighborhood's four-legged inhabitants.
A dog house this is not.
"I was trying to do something nicer and cleaner and more inviting than a warehouse somewhere away from town," Schultz said. "There are huge off-leash dog parks around Denver, but they're not very close to Wash Park. This is something to meet this neighborhood's needs."
Wash Bark offers dog day care and pet-grooming services such as nail jobs, furminator treatments (a de-shedding technique that includes up to 30 minutes of brushing) and teeth cleaning. You also can shampoo Fido yourself in one of the facility's self-serve dog baths.
Schultz said she's seen about 24 regular clients so far, and they come in one or two days per week for day care or grooming. Wash Bark can accommodate up to 75 dogs at the same time, Schultz said.
Schultz's husband, Frank, who owns The Tavern chain, also owns the West Bark building. He purchased the 4,500-square-foot property through a shell company for $1.63 million in 2013, according to Denver public records. The pair originally considered opening a dog spa in LoHi near Root Down and a bar at Wash Bark's current location, but changed those plans.
"This is a great established neighborhood and (LoHi) is more up and coming," Schultz said. "There's a combination of families with good income and small backyards who have dogs that need a little more exercise."
She's invested about $500,000 in the building, she said, including demolishing everything but the site's front wall and rebuilding it from the ground up.
Wash Bark even includes a relaxation and nap area for its canine customers, an idea Schultz said she got from her own dog.
"She's 10, and it's hard for her to get up because her hips hurt," Schultz said.
Schultz, a native Brazilian, came to Denver in 2005 as an au pair studying to be a surgical technician. Her father was a veterinarian in Brazil.
"This is very different from working in the clinic," she said. "These dogs are all much happier."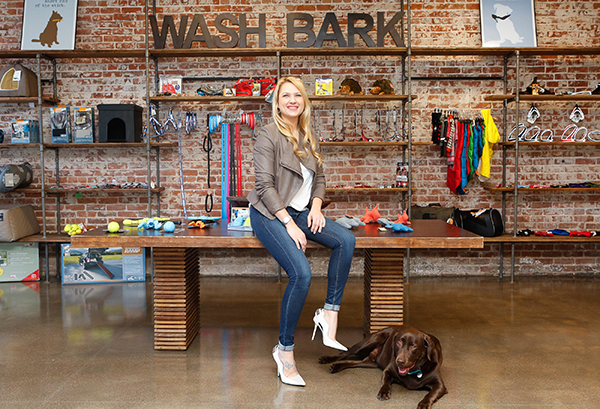 8163