Andy Williams said Commerce City doesn't have enough cannabis stores, so he's going to open one under his Medicine Man brand.
Williams, 47, operates Medicine Man cannabis stores in Denver and Aurora. He hopes to open his third shop at 5850 Dahlia St. in Commerce City by the end of November.
"Commerce City is underserved in terms of cannabis retail stores," Williams said. "We like the demographic of Commerce City. We come from a blue-collar family, so that's who we serve. We're not the Cherry Creek cannabis store; we're servicing the bigger market."
Williams, who operates Medicine Man with his brother Pete, 45, has brought on fellow dispensary owner David Souci of Lyons Finest to help him open the Commerce City shop.
A company owned by Souci purchased a two-acre property for $1.5 million earlier this month, according to Adams County public records. Williams estimates that Medicine Man will invest about $1 million at the site to build a 4,000-square-foot retail and medical store, which would be the chain's largest store.
Williams has a lot of work ahead in order to open in November.
First, he will ask Commerce City to re-zone the property so he can apply for a cannabis license there, he said. The property encroaches on residential space, so Williams will need to split it into two plats and build the dispensary on one of them.
Construction planning would be next. Williams needs to receive a certificate of occupancy from the state, which can take up to six months. Then he can apply for his license to sell cannabis. It takes 45-60 days to secure a cannabis license, he said.
The Williams brothers founded Medicine Man as a cultivator in 2009.
"It's a nice fit – he's the inventor and cultivator and I'm the business guy," Williams said. "He's a genius when it comes to building grow operations. He started off building them in his basement. We put together a business plan and away we went."
They opened their first shop at 4750 Nome St. in Denver in 2010 after Colorado's Marijuana Enforcement Division passed a rule forcing medical growers to sell 70 percent of their crop in-house. The 40,000-square-foot facility also houses a massive grow operation capable of churning out 25 pounds of pot per day.
They opened their second store, a 1,500-square-foot facility, in Aurora in 2014 after that city legalized recreational sales. Today, Medicine Man employs about 70 people between its two locations.
The brothers are eyeing Oregon for expansion, Williams said.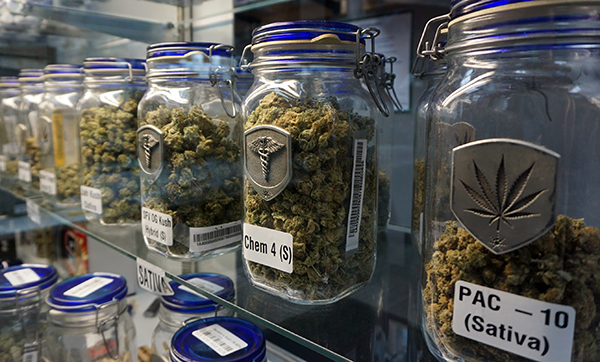 8105