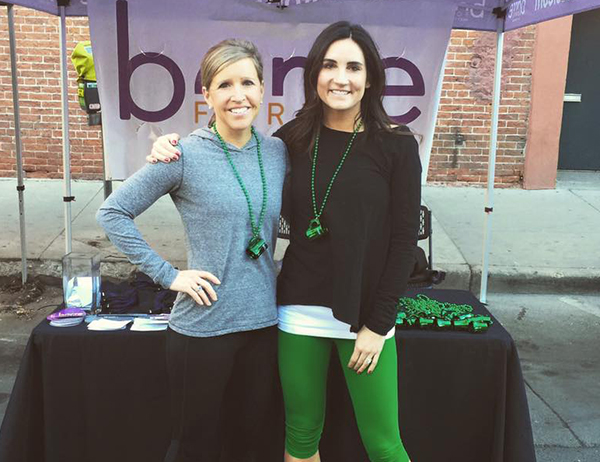 Two first-time fitness studio owners are trying to set the bar for working out along Platte Street.
Amy O'Connell and Sarah Brittenham plan to open a new Barre Forte gym on Platte Street this summer. They'll be the second group to license the Barre Forte concept from its Denver-based owners.
"The fact that we're right on the gateway between the Highlands and Downtown is probably the most appealing aspect of (the location)," O'Connell said. "I live in LoHi myself, and I work from home with my child. I think a lot of people that go to the studio will be people like me."
O'Connell and Brittenham signed a lease at 1553 Platte St., a former frozen yogurt shop, earlier this week, O'Connell said. They'll be removing the former tenant's fixtures from the 1,200-square-foot space and redesigning it to hold a barre studio, lobby, changing area and restrooms.
Barre Forte owners Jen Rehm and Nadia Walker-Arnold operate studios in Cherry Hills and Highlands Ranch. The first licensed studio is in Gainesville, Florida.
O'Connell and Brittenham are investing about $100,000 into their studio, O'Connell said. Their agreement with Barre Forte gives them control over designing the studio's interior, one reason O'Connell was drawn to Barre Forte, she said.
"When we licensed from them, we took their logo, branding and format, but otherwise we have free rein to make this studio our own," O'Connell said. "A lot of franchises have so many rules you need to follow, but that wasn't the case here. The logo and font type are the only things that we have to follow."
The LoHi Barre Forte will offer a variety of membership packages, including monthly unlimited classes for $150. O'Connell said that membership reciprocity with other Barre Forte studios hasn't been determined.
Rehm and Walker-Arnold, who founded Barre Forte under the name Body Barre in 2011, said that licensing studios is the company's new growth strategy.
"The two of us only have so much bandwidth … we can open maybe one studio every year," Rehm said. "We looked into franchising, but we decided not to because we wanted to keep control of the classes while the licensees had control of the studio."
Barre Forte licensees buy the rights to use Barre Forte's exercises, class programming, branding and business support services from Rehm and Walker-Arnold. The model, Rehm said, lends studio owners Barre Forte's expertise but gives them freedom to run the business themselves.
Rehm said another licensee has signed a letter of intent to open a Barre Forte studio in either Parker or Golden, and she expects to finalize the deal soon.
Barre Forte's website estimates that licensees likely will spend between $50,000 and $100,000 opening a studio.
O'Connell and Brittenham will teach at the studio. O'Connell also will continue to run Fuel Social Media, a company she founded.
They got into barre in an unusual way – through long-distance running. Generally, barre instructors come into the practice from a dance background.
"We both are ultrarunners, so we run races up to 100 miles," O'Connell said. "We started doing this to train for running and got into it from there. We want to bring it to other athletes like CrossFitters to help support training and performance."