Regus, the shared-office giant, has a new concept to compete with the proliferating supply of shared co-working spaces.
The company will open a new, three-story, 35,000-square-foot office complex at 2301 Blake St. in August.
But don't expect the suit-and-tie, private suites the company is known for. The new model is its "Spaces" concept, a small-office and co-working brand aimed at younger workers who want that hip, revamped RiNo warehouse instead of a polished downtown tower.
"The business worker in today's world wants to work in collaboration with other companies, be that an insurance agent, a lawyer or a programmer," said John Carey, Regus area vice president. "There are a lot of different design elements going on at Spaces; we'll be building a much more open area with cafes and touchdown spaces."
Regus leased the entire red-brick building at Blake Street and Park Avenue West in January, said Sheldon Shadrach, Spaces area manager. The building was previously home to Davis Partnership Architects, which leased a new office at the Bindery on Blake last year.
Oakwood Real Estate Partners bought 2301 Blake St. last year for about $10 million, and Newmark Grubb Knight Frank brokers Jamie Gard and Jeff Castleton represented the landlord in the Regus deal.
Spaces is renovating the building now, Shadrach said. It will be the fourth Spaces in the United States, Shadrach said, with other locations in New York, Silicon Valley and San Francisco's Menlo Park.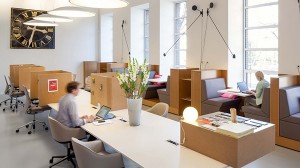 The first and third floor will be chopped into separate offices, Shadrach said. Those will range from four-desk offices up to rooms capable of housing 15 employees. The second floor will be an open co-working space.
Rates will start at $350 per month for drop-in co-working and $480 for a reserved desk in the co-working space. The smallest four-person office starts at $3,120 per month and the biggest tops out at $10,120. Those prices are for 12-month terms, according to a Spaces rate sheet, but the company will offer shorter leases as well.
Shadrach estimated Spaces will have room for about 400 employees in its private offices and another 200 co-working customers.
Shadrach hopes it's the first of several Denver Spaces locations. But Regus is making its foray into Denver co-working as other big-name, well-funded national brands vie for a chunk of the local shared-office market.
WeWork came into Denver last year, gobbling up 50,000 square feet at The Lab on Platte and more than 70,000 square feet at Union Station's Triangle Building. Both locations will open in April.
BusinessDen obtained company real estate reports last year that suggested WeWork was eyeing at least two other Denver office properties as of last May.
Chicago-based co-working company Industrious is also hot on Denver, advertising a new LoDo location on its website last year before taking down that page. Company CEO Jamie Hodari confirmed last summer that the company had enlisted local brokers to scout Denver office space, but said Industrious did not have a firm location in town.
The national brands will find plenty of local competitors. Handfuls of Denver-based co-working spaces dot the downtown area. Thrive Workplaces, for example, has a Ballpark location just one block from Spaces at 1415 Park Avenue West.
Shadrach hopes to capitalize on his parent company's reputation to draw tenants. Each Spaces member will be able to drop in and work at any Regus location worldwide, including three in downtown Denver and 24 total between Boulder and Colorado Springs.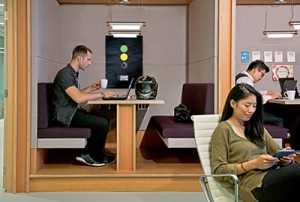 Shadrach also hopes tenants prefer working with a company that has been leasing office space for decades.

"We have 3,200 locations through Regus, which tells you we're doing something right," he said. "We are known for delivering our product, people are familiar with what we do and they know we're going to deliver on what our renderings show."

As the bigger players move into town, the local shared-office companies are taking note.

Craig Baute owns two Creative Density co-working spaces and founded a local trade group, Denver Coworks, an alliance of about a dozen Denver shared-office brands. He separates the shared-office market into two segments: Co-working and executive suites.

Co-working spaces typically offer wide open work areas with common desks. Baute said Creative Density, Green Spaces, Converge and Sunnyside Station fall under that category. Executive suites are small, and separated offices might share common amenities such as printing, copying and kitchens.

Baute said the demand for executive suites is very high right now. Co-working is steady, he said, but not as hot as the small-office segment. Baute said WeWork, like Spaces, is heavily skewed to the shared-office side.

Some shared-office spaces have received termination notices from tenants that plan to move to WeWork, Baute said.

"The traditional co-working spaces, we're not worried because we go after a different market," Baute said. "The Shifts, and the Thrives and the Modworks of the world, they're going to have to play a more price-competitive game."

Baute said Shift Workspaces is starting a sort of "shop local" campaign in hopes of keeping Denver's business. The local shared-office spaces also are banding together to remain competitive.

"We're going to put on events," Baute said. "You'll be able to network between the other spaces. We'll offer free days at other co-working spaces."

But all the special offers, hip cafes, pingpong tables and free beer lounges in the world won't sell shared-office space if there aren't enough buyers. For now, Baute said there are enough companies looking for executive suites.

But he's worried that might soon change.

"WeWork right now is going to fill up to capacity, but then we have a lot more coming online after that," Baute said. "Give it another year and the answer will probably be that there is too much supply."


7992