A Denver startup hopes to help those who want to grow their own cannabis but lack a green thumb.
Former college buddies Fred Lindseth and Jeremy Harlam have landed a $20,000 investment from Boulder accelerator CanopyBoulder to develop iDro, a home-grow product. They've designed a mini-fridge-sized grow house that will feed and water plants on its own so the grower doesn't have to.
"As Colorado and Washington enter into their third full year of legalization, we're seeing close to 18 percent of consumers growing their own at home," Lindseth said. "That's our customer base."
Lindseth, 23, wants to make a product for the home grower with little knowledge about how to cultivate cannabis. The round device he's working on will be about the size of a minifridge, he said, and would hold up to three plants.
The idea, Lindseth said, is to use two iDros to keep three plants in the "flowering" phase of the growth cycle and another three in the "vegetative" phase. Colorado law says growers can't have more than three of each at one time.
The iDro device will have a built-in computer that maintains temperature, humidity, pH and CO2 at optimal levels for growth. It'll also water the plants, dose them with nutrients and control the amount of light a plant gets.
It's not a new idea. Other startups, such as Canopy graduate Leaf, have built self-contained growing systems. But Lindseth said those systems can get pricey. Leaf, whose website says will retail for $1,500, is three times the price of the $500 iDro.
"We're trying to make it easier for the layman to grow cannabis," Lindseth said. "We're trying to target people who don't have a lot of disposable income and don't have a lot of experience growing."
The device also could save frequent cannabis smokers in the long run. With two iDros, a customer can harvest between four and six ounces of cannabis every two months, Lindseth said. It would cost $1,300 to buy that much top-shelf cannabis at Native Roots, according to the company's website.
Lindseth and Harlam have a functional iDro prototype that needs tweaking before it's ready for the public. Lindseth would like to put the product into production by summer 2017 and start selling it that fall.
Lindseth and Harlam met while studying at Colorado College. Lindseth, who studied biology with a focus in horticulture, came up with iDro during Colorado College's Big Idea business plan contest.
He had to tailor the idea towards edible vegetables because cannabis companies weren't allowed in the competition. He won $15,000 from the competition, which he invested into the company.
Canopy chose iDro for the accelerator program in late February. Canopy was founded last year after raising $1.2 million to invest in 20 cannabis-related startups.
Companies in the accelerator program receive $20,000 in initial funding, with another $50,000 available midway through the program for companies that appear to be successful, according to Canopy's website. In return, Canopy receives an ownership stake of between 6 and 9.5 percent.
Canopy also provides its startups with a four-month business education program with entrepreneurship lessons on topics such as daily management and soliciting capital.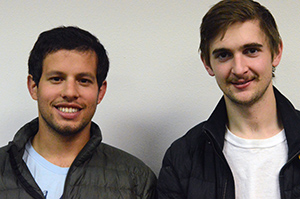 7952