Denver development hasn't gotten old for a Colorado-based assisted living home operator.
Balfour Senior Living and Northstar Commercial Partners are planning a new 74-unit assisted living facility at 2979 Uinta St. in Stapleton.
It will be Balfour's second Denver location after the company opened a 205-unit complex downtown about one year ago.
Plans call for a 63,000-square-foot building on a 1.5-acre site at the southwest corner of Uinta Street and Martin Luther King Boulevard. Of those 74 rentable units, 58 will be general assisted living apartments and 16 will be dedicated to memory care.
The Stapleton Balfour, like its downtown counterpart, will include a memory care unit. It will also offer a salon, chauffeured transportation and fitness center.
Northstar and Balfour bought the property in September 2015 for $1.565 million, city records show. Northstar's director of debt Josh Richards said the total project cost will come in at about $21 million.
He added that the company is anticipating closing a loan on the project next week and should break ground in April.
Balfour plans to open the center in the first half of 2017. Davis Wince, Ltd. is the project architect and Brinkmann Constructors will be the general contractor.
The Stapleton location will be the third assisted living community Balfour Senior Living has opened. Founder Michael Schonbrun opened the first Balfour in Louisville more than 15 years ago and unveiled a new $78 million Balfour near Union Station in Denver in early 2015.
The Balfour will be Northstar's first healthcare-related project, Richards said, and the company has another in New Mexico and Illinois in the planning stages.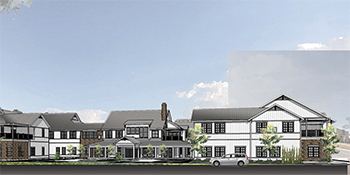 7933