After a yearlong hiatus, one of America's oldest snowboard brands is hitting the slopes again with help from a Denver company.
SIMS snowboards, a company that the late Tom Sims founded a year before industry legend Jake Burton launched the iconic Burton brand in 1977, will be produced at the Never Summer factory.
SIMS snowboards went out of production a year ago, but now Tom Sims' widow, Hilary Sims, is re-launching the brand.
"We were looking to build some high-end boards to start out that we were hoping would attract an investor to pump money into the brand or a licensee to do production," she said. "When (brand manager) Marc (Vitelli) was researching that, he went to Never Summer and we realized they could get the (SIMS) brand back on track."
SIMS contracted Never Summer to make 675 boards for the 2015-16 season to test the market's reception to new SIMS boards. The boards come in two models: the all-mountain Blade and the freestyle Juice, both priced at about $500.
The company paid for this first run by preselling boards to specialty ski and snowboard shops. SIMS raised about $120,000, which it paid Never Summer to make the boards. Hilary Sims also invested about $50,000 of her own money to pay for expenses such as trademark registrations and legal fees, she said.
SIMS' contract with Never Summer marks the first time the company has designed its own snowboards since 1984. That's when Tom Sims began licensing the SIMS name to other companies to produce and sell boards using his brand.
But the brand's most recent licensee folded in 2015, Hilary Sims said, which returned the SIMS brand to her.
She considered finding a new licensee to buy the SIMS name, but decided against it after meeting with Never Summer. Working directly with Never Summer gives SIMS a degree of control over its brand and products that it wouldn't have with a licensee, Hilary Sims said.
Since relaunching the brand, Sims has grown to six employees. Marc Vitelli, SIMS' brand manager and snowboard designer, got in touch with Never Summer through his own contacts. He also held the company's first business meeting with Never Summer on the slopes.
"I knew a bunch of people at Never Summer, so I called their marketing director, Chris Harris, to talk about making snowboards for us," Vitelli said. "We met up at Loveland and talked about it on the chairlift."
Vitelli designed the boards with Never Summer's Tim Canaday. The products are based off of vintage SIMS shapes from the company's heyday in the 1980s.
SIMS plans to go bigger next season. Vitelli designed two more snowboard shapes to double the company's offerings. He's taking preorders for next season, and expects SIMS will sell about 1,000 boards.
"These aren't just Never Summer boards with a SIMS logo stamped on it," Vitelli said. "We don't want to do something like that again."
Tom Sims designed his first snowboard in 1963. He moved to California in 1971 to get into the state's skateboard scene, and founded SIMS in 1976 with $15,000 in capital from a private investor.
Sims didn't just make snowboards – he could shred like the pros. He appeared as a stunt double for Roger Moore in the 1985 James Bond film "A View to a Kill." He died in 2012.
You can find Sims' early snowboard designs on display in Vail's Ski and Snowboard Museum.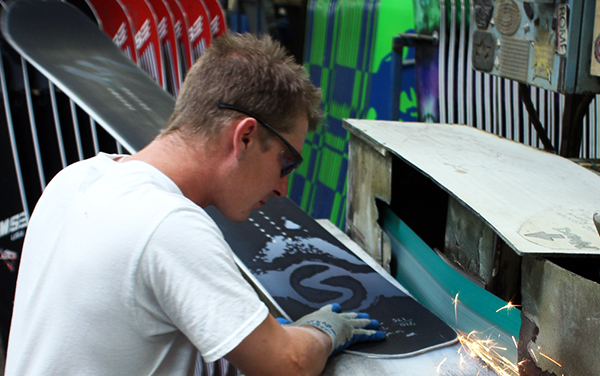 7884